Rainbow Tie Dye Cheesecake
Jump start the new week with something fun, bright and full of swirl of rainbow colors! Beyond being beautiful, this silky, smooth, and tasty Rainbow Tie Dye Cheesecake is the perfect breakfast dessert to brighten up and kick start the day! This is not only pretty cheesecake. They are also fun to eat and super fun to make. You can do as many or as little colors as you want from Suncore Foods® Powders.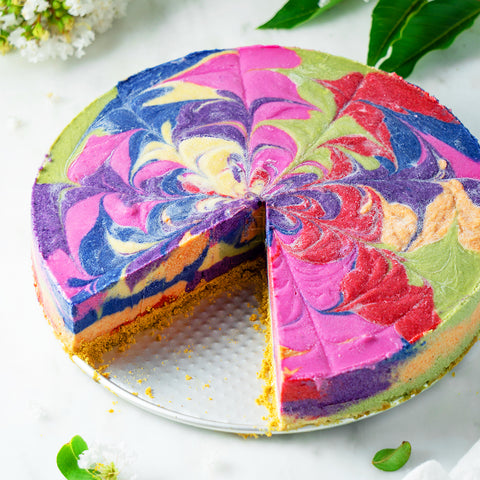 Directions
1. In a large bowl mix together with hands ground graham crackers and softened butter. Place and press into a pie dish of choice. Freeze for two hours.

2. Place all ingredients for filling into a blender and blend until smooth. Grab seven small bowls and divide filling equally. For each bowl and one color and mix well.

3. Gently add a dollop of each Suncore Foods® Powder into the pie dish repeating process until finished. With a skewer dip into pie filling down to the crust and form a circle on the outer edge repeat process going in opposite directions moving towards the center of the pie. Place it freezer for 4 hours.

4. Once pie is ready slice and enjoy. Keep pie stored in freezer.
---