Rainbow Snowskin Mooncakes
The Mid-Autumn Festival is drawing near, and we are just salivating over all the mooncakes that are popping up around us! Mooncakes are a long-standing traditional, cultural delicacy and can be a little intimidating to tackle on your own. Luckily though, a newer version has grown in popularity over the years and is much simpler and quicker to make—the snowskin mooncake! They require no baking whatsoever and are the perfect vessel to add fun and bright colors to your celebration. Here, we have Rainbow Snowskin Mooncakes made with (believe it or not) just a sampling of Suncore Foods® Powders (Aqua Blue Spirulina, Yellow Goldenberry, Purple Sweet Potato…). The world is your oyster with all the powders available at SuncoreFoods.com to joyfully add and create any color that catches your eye!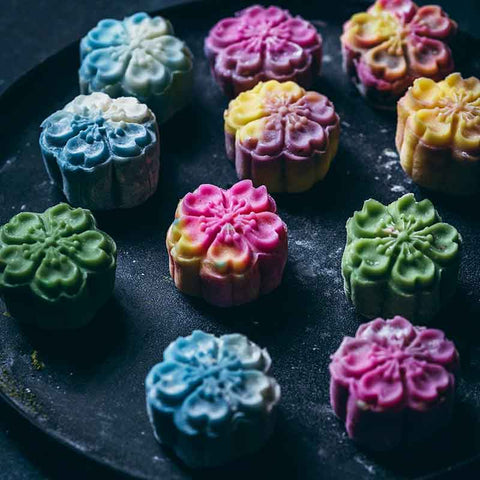 Directions
1. The Filling — In a bowl, whisk together the eggs and sugar, then add milk and heavy cream. Whisk until fully combined. Sift the flour and starch into the bowl and stir to mix well. Strain once for creamy texture. Heat the mixture in a pot on over medium-low heat, stirring constantly until mixture thickens. Add coconut flakes and mix well. Cover the custard with plastic wrap and let it cool to room temperature. Divide into small pieces, about 25g each. Shape them to small balls.
2. The Wrap — Mix together the rice flower, starch and sugar powder together in a big bowl. Add whole milk, oil and condensed milk, whisk until the batter is well combined. Strain twice and steam in a bowl over high fire for around 30 minutes until it becomes slightly transparent. Take the cooked dough out, cut into 6 pieces and cool for about 15 minutes. Add Suncore Foods® Powder to each dough and knead until the color is uniform and surface becomes smooth and elastic (Wearing disposable kitchen gloves as the dough can be very sticky). Dusting the working surface with cooked rice flour. Divide each colored dough to small pieces (25g for single color mooncake or 12.5g each for due color). Press each piece into a small disc with the palm of your hand. Then use a rolling pin to flatten it into a thin disc. Dust with flour if the dough sticks. Place the filling in the middle of the wrap. Gently take the edge and seal. Use mooncake mold to shape.
---