Gluten Free Multicolor Pasta
Sometimes it's a chore and a half to get your little ones to settle down and sit down for a meal. One life hack is to make the meal fun! Even better to get them involved with making their own food! Mixing colors into pasta like this Gluten Free Supercolor Pasta is super simple with Suncore Foods® Powders (Aqua Blue Spirulina, Blue Butterfly Pea, and Cosmos Red Cabbage used here). Watch as little eyes alight with magic and excitement while vibrant colors form in the mixing bowl! The noodles are so attractive that even the pickiest of eaters will find it hard to turn down. Your young'uns won't even know they are eating pasta. Pair your pasta with some mushrooms or any other earthy veggie--perfect for the first day of fall!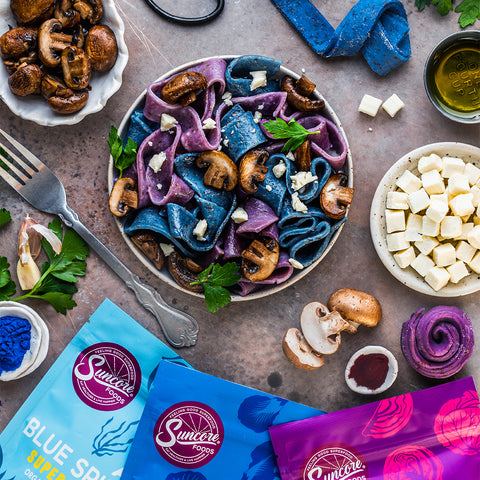 Directions
1. Start with one Suncore Fodos® Powder pasta: In a large bowl, combine both flours and Suncore Foods® Powder and mix well. Make a well and add olive oil and vegan eggs.
2. Using a spatula combine everything until it starts to come together and using your clean hands, knead the dough for 1 minute in the bowl.
3. Dust some 1-to-1 flour on a clean work surface and transfer the dough onto it. Knead dough for 8-12 minutes and form a thick dough log. Dust some more flour onto the surface and/or onto the dough as and when needed while kneading.
4. Cut a chunk from the dough, the size will depend on your pasta machine, and wrap the remaining dough in plastic wrap to avoid letting it dry out.
5. Lightly flatten the dough chunk into a circle and set pasta machine to the thickest setting. Run the dough through the machine, fold the dough and run it through the machine again. If you're happy with the thickness of the pasta, continue to use the thicker setting or reduce it by 1-2 and run the dough through the machine again 3-5 times without folding it the final time. Dust some flour onto the pasta strip as needed.
6. Set the cutting attachment to a wider setting. Feed the pasta through the cutting attachment catching the pasta with one hand while it comes out of the machine. On a lightly floured surface, form pasta nests or loosely roll pasta together.
7. Repeat this process for the remaining dough.
8. Repeat this entire process for the second Supercolor pasta.
9. Bring a large pot of water (+ salt) to boil and place pasta nests in the pot. Boil until the pasta starts to float to the surface. Continue to cook for 1-2 minutes. Drain water, saving as much water as needed to cook with.
---