Rainbow Pancake Cereals
First, we have breakfast, then we conquer the world! Good morning and have a bowl of the fantastic Rainbow Pancake Cereals. Make it fun, colorful, and beautifully delicious with Suncore Foods® Powder Pink Pitaya and Zen Midori Matcha Pancake & Waffle Mixes, to achieve this happy and vibrant pink and green hue. Get your favorite cup of milk, and some fresh berries, and enjoy this deliciousness! Always treat yourself to something good and eat well. Life begins after breakfast.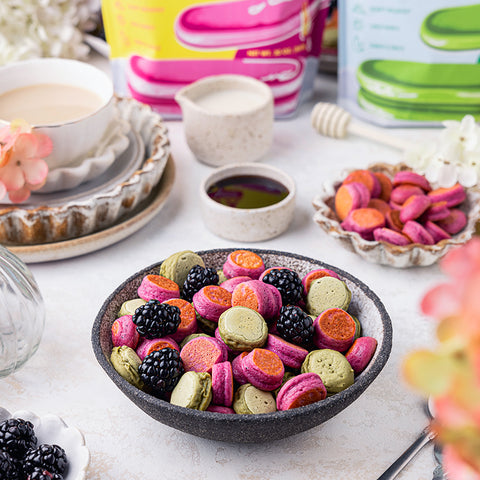 Directions
1. In two separate bowls prepare the pink and green batters respectively. Whisk all ingredients together until well combined. If the batter is too dry add some more milk, 1 tsp at a time. If the batter is too runny, add some more Pancake Supermix, 1 tbsp at a time. The batter should not be too runny, you should be able to pipe the batter easily. Set aside for 5 minutes.
2. Before heating a pan, drizzle some oil on a pan and using a paper towel spread the oil around and remove any excess oil. Alternatively, spray some oil onto the pan.
3. Place the pan on medium heat. While the pan is heating, transfer pancake batters into a piping bag each. Use a large round tip or cut the end of the piping bag and use it as is.
4. Once the pan is hot, squeeze small circles (or dots) onto the pan and cook for 1-2 minutes, until bubbles start to form on the surface. Using a spatula flip the cereal pancakes and cook for another 1-2 minutes, until golden brown on both sides.
5. Follow the same process until the batter's finished. Drizzle some more oil as needed. Serve with fresh fruit and maple syrup.
 
---