Multicolor Cheesecake
A balanced diet is having a piece of cake in each hand! Make today a little happier and enjoy this beautiful, guilt-free Multicolor Cheesecake. Elevate your dessert table and add the magic of Suncore Foods® Garnet Elderberry, Red Beet, and Yellow Goldenberry Powders to achieve these beautiful, elegant color hues. Adding a few garnishes on top, you can transform and elevate this simple, sleek cheesecake to impressive heights! Cheesecake will always taste like love. It's somebody's birthday somewhere.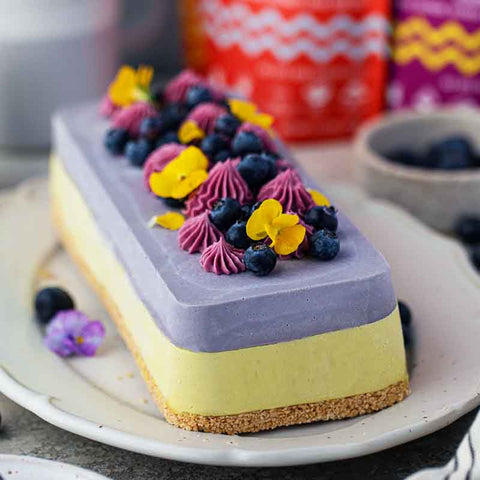 Directions
1. In a high speed blender add soaked cashews, coconut milk, sugar free
syrup, lemon juice, vanilla, coconut oil, cocoa butter. Blend until creamy and smooth. Divide cheesecake batter into 2 portions. To first portion add Suncore Foods® Red Beet Powder & Suncore Foods® Yellow Goldenberry Powder dissolved in water and mix well until incorporated. To the second portion add Suncore Foods® Garnet Elderberry Powder dissolved in water and mix well until incorporated. Prepare silicone cake mold. Pour garnet elderberry portion into the silicone mold first, put in the fridge for an hour to set. Then, pour canary yellow safflower potion over the first layer and let it set.
2. Add vegan graham crackers, brown sugar and coconut oil, to a food processor. Process until sticky dough is formed. Press the dough evenly over cheesecake and let it chill in the frizzier for a couple of hours before
removing the cake from a silicone mold. The harder cake is the easier it will
be to remove it from the mold. Garnish the cheesecake with berries and
edible flowers.
---