Rainbow Noodles
We all know that it is important to add colorful fruits and veggies into our everyday diets. A simple and easy way to eat your colors is infusing Suncore Foods® Powders with rice noodles! Not only do the supercolor powders add gorgeous hues but they also add deliciousness your meal to SUPER status! This recipe for Rainbow Noodles has a medley of Suncore Foods® Blue Butterfly Pea, Ebony Carrot, Red beet, and Purple Sweet Potato Powders melding together in a tangy and powerful orange balsamic dressing. Paired with tofu cooked in a peanut sauce that is savory and sweet with a little umami to round out all the flavors. In under ten minutes, you can have a yummy tofu dish atop a bed of super noodles that's kind of gooey, kind of silky, and all kinds of delectable!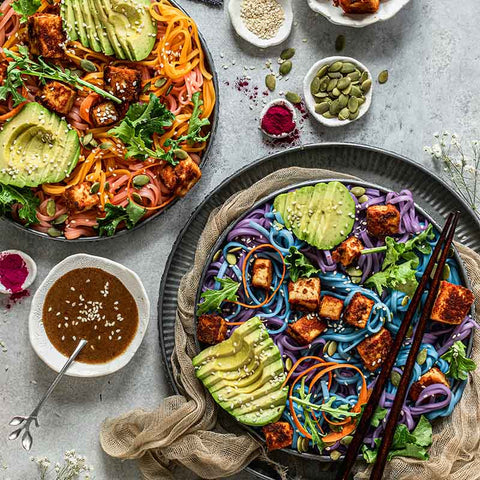 Directions
1. Orange Peanut Tofu — Blend all ingredients, except tofu and sesame oil, until well combined. Set aside. Place a large pan on medium-high heat, once hot drizzle sesame oil and spread it around evenly. Add tofu and cook for 1-2 minutes. Mix in peanut butter orange mixture and ensure all tofu piece are well coated. Continue to cook, stirring every 3-4 minutes, until the entire mixture has been absorbed and tofu pieces are dark brown and crispy on 2-3 sides.
2. Orange Balsamic Dressing — Whisk/blend/mix all ingredients until well combined.
3. Rainbow Noodles Directions — Follow package instructions and cook 1 portion of rice noodles at time. Once the water starts to boil, mix in 1 Suncore Foods® Powder and continue to cook as per package instructions. You should have 4 portions of cooked noodles, 1 of each Suncore Foods® Powder.
4. Assemble Bowls — Place all ingredients in 2-3 bowls starting with rainbow noodles. Add greens, avocado, carrots, tofu, pumpkin seeds and sesame seeds. Serve with orange balsamic dressing on the side.
---