Forget Me Not Lilac Taro Yam Mousse
Happy National Dessert Day!! What better way to commemorate today than with a stunning and irresistible Forget Me Not Mousse? Starting off with a crumbly cracker crust, add a creamy, airy, and fluffy mousse flavored and colored with Suncore Foods® Lilac Taro Yam Powder, and you'll be on cloud nine! But don't *forget* to top off the mousse with a flavored with Suncore Foods® Forget Me Not Flowers that yields such a beautifully delicate flavor that it pairs harmoniously with the mellow, sweet vanilla flavor of taro. Embrace this fun, national holiday or wind down with this wonderfully light dessert!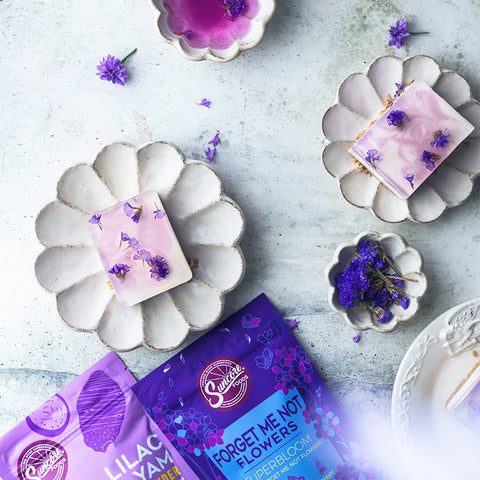 Directions
1. In a food processor, pulse the cookies until fine crumbs form. Add the butter and salt and pulse to combine.
2. Press the crust into an even layer into the base of a 6-inch cake ring. Freeze the crust to firm it up for at least 30 minutes.
3. In a pot, bring the milk and gelatin powder to a simmer over low heat, stirring frequently. When it comes to a simmer, remove from heat and whisk in sugar.
4. Whisk heavy cream until soft peak forms. Then add yogurt and milk mixture to the cream, fold to mix well.
5. Scoop out 1/2 of the batter and add in Suncore Foods® Lilac Taro Yam Powder. Stir until uniform in color.
6. Transfer the filling to the prepared crust. Use a skewer to swirl the batter around and chill the mousse to set.
7. Place the Suncore Foods® Forget Me Not Flowers in a tea pot. Boil 2 cups water and pour over the flower. Let steep for 5 - 10 minutes. Take the flower out and boil the tea again. Whisky in sugar/honey and gelatin powder.
8. Take the cooled mousse out, pour the tea mixture over it and decorate with Forget me not flowers. Cool in the fridge for at least 2 hours.
---