Rainbow Dango
Get through this hump day with this ADORABLE Rainbow Flower Dango! This traditional Japanese dessert is perfect to pair with your afternoon tea. Take a bite into these delicious, tender, sweet, and chewy flower mochi, and take your tastebuds to foodie heaven. Use Suncore Foods® Red Beet, Emerald Pandan Leaf, and Midori Jade Matcha Powders to recreate the three symbolic colors of the Dango — the pink cherry blossoms, the white snow, and the green summer grass! Enjoy this fun & traditional dessert with this delicious recipe.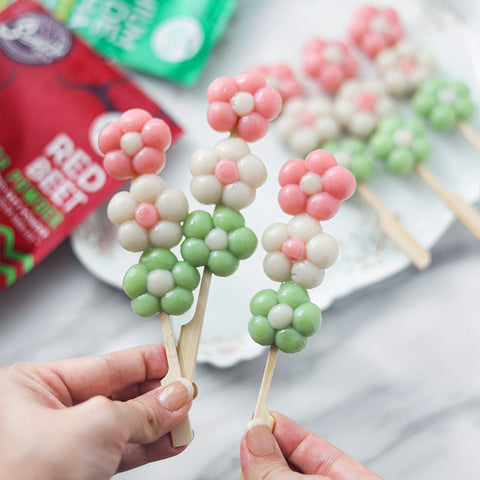 Directions
1. In a bowl, combine rice flour, sugar, and hot water, mix well. Add glutinous rice flour and room temperature water. Knead until it forms into a ball. Divine dough into 3, add Suncore Foods® Powder and kneading until combined. Cut dough into small pieces. Roll the pieces into balls. Shape the dango (Wet the balls slightly with water to stick).
2. In a pot, add in water, bring it to a simmer on medium heat. Add in the rice balls and cook until it floats. Drain the dango with cold water, lightly brush dango with simple syrup to prevent sticking *optional.
3. Skewer the dango onto the bamboo skewers. Serve with toppings like red bean paste, sweet soy glaze, Kinako/roasted soybean powder or coconut nectar. Enjoy!
---