Pink Pitaya Ice Cream Emerald Pandan Leaf Cookie Sandwiches
Ice cream sandwiches aren't just black and white. They're fun and deserve to live in color! Keep it cool and vivacious with Suncore Foods® Pink Pitaya & Emerald Pandan Leaf Powders. Not only do these ice cream sandwiches dazzle in the perfect color combo but are the perfect combination of chewy cookies and creamy ice cream! Let's scream for ice cream!!! The best time for ice cream is all the time!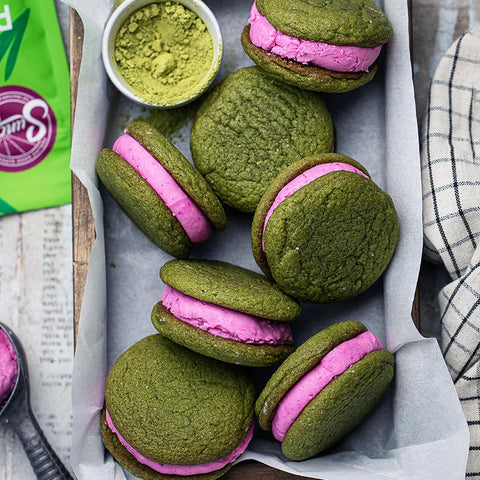 Directions
1. Sift together the flour, salt and Suncore Foods® Emerald Pandan Leaf Powder, set aside. In a stand mixer on medium speed cream together the powdered sugar and the butter. Incorporate flour with the butter mixture. Wrap the dough in a plastic cup and refrigerate for 30 minutes. Preheat the oven to 325'F. Cut the dough into 20 pieces and flatten them into disks. Line them upon a baking sheet and bake for 15 minutes.
2. Whisk the egg yolks and sugar together until pale yellow. Warm the milk until it slightly simmers. Add milk and vanilla extract to the egg yolk and sugar mixture. Return to the sauce pan and cook until thickened, constantly stirring. It should get to 170'F. Remove from heat and blend Suncore Foods® Pink Pitaya Powder into the mixture. Add heavy cream.
3. Pour ice cream blend into container and freeze until completely set. Once frozen remove it from the fridge, break it into smaller pieces and blend using blender until smooth. Transfer blended ice cream into freezer for an hour until set.
4. Once cookies completely cool sandwich an ice cream round between to cookies using an ice cream scoop or cut out round pieces with a cookie cutter.
---