Rainbow Crispy Crust Melon Pan Cream Cheese Roll
The coolest, easy, and colorful bread baking project with your kids and all ages to love. These soft and crispy rainbow crust on top Rainbow Crispy Crust Melon Pan Roll will have them ask for seconds in no time! Colored simply using Suncore Foods® Powders. Pack some fun into your kids' lunch packs with this bright and colorful recipe. Have fun!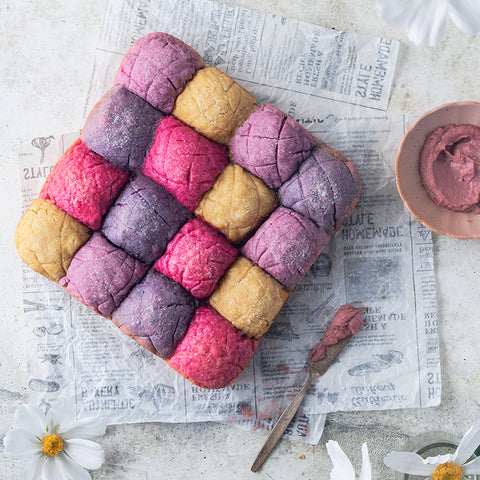 Directions
1. Make the dough. In the bowl of a stand mixer fitted with a dough hook. Mix bread ingredients together at low speed (2~3) for 10 minutes until the dough becomes smooth. Then mix at high speed (6~7) for 15 minutes until the dough is smooth, springy and just a bit tacky.
2. Use your hands to lift dough out of mixer bowl and transfer to a workplace. Divide the dough equally to 4 pieces and cover with a plastic wrap. Take one dough with 1 tbsp Suncore Foods® Red Beet Powder & 1 tbsp Suncore Foods® Yellow Goldenberry Powder to the mixer and mix until well combined. Follow the same process for the other 3 doughs. Cover with plastic wrap and let them rise for 1~1 1/2 hours until the doughs rise to their double size.
3. In the meanwhile, make the crust. Heat the butter in microwave until completely melt. Then add other ingredients to the butter and mix until well combined. Divide the mixture to 4 portions and add Suncore Foods® Powder to each portion. Mix well (The dough should be crumbly).
4. Use your hands to press the crumbs together to form a dough. Transfer each dough onto a piece of plastic wrap and wrap it tightly.
5. Preheat oven to 350 F. After the rise, punch each dough down. Divide each dough to 4 pieces. Flatten each small dough with your hand and roll out the dough into a flat disc. Place 1 tsp cream cheese of choice in the center of the dough and lift the edges up around the filling and then pinch them together to seal.
6. Slice 4 pieces of the crust dough from each color. Roll the dough between two pieces of plastic wrap until flattened. Gently place the crust topping onto the bread dough. Place the dough into the baking pan and let is rise until double its size. Bake for 25 ~30 minutes.
---