Colorful Heart Shaped Steamed Buns
Who said buns needs to be plain? We love how colorful these Heart Shaped Steamed Buns are! It is the most delicate gift-wrapped buns to share it with your love ones. Sometimes a hint of color is all it takes, and we have exactly what you need with our fantastic Suncore Foods ® Powders! For these lovely steamed buns, added mix of Suncore Foods® Cosmos Red Cabbage, Emerald Pandan Leaf, and Ruby Red Radish Powders for the dough and turned out to be the most gorgeous Buns. Perfect home baking to celebrate Lunar New Year with your family and friends!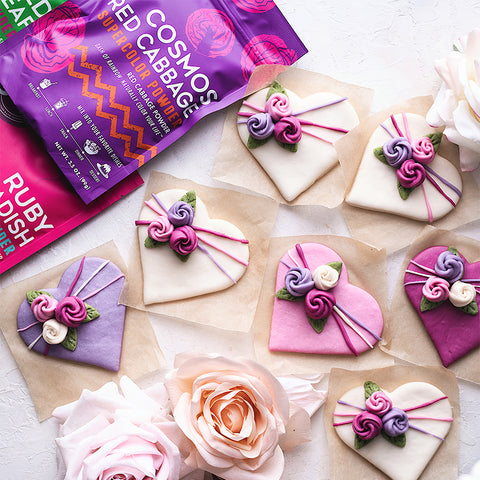 Directions
1. Mix all ingredients in the bowl of stand mixer. Knead the dough until the dough becomes smooth on the surface, around 15 minutes.
2. Divide the dough into 5 pieces (white: purple: light pink: pink: green – 3: 2: 2: 2:1), then add the color powder to each piece. Kneed to mix well.
3. Take the white dough to a working surface and roll it to a flat oval shape. Use the mold to cut out 4 heart shapes. Follow the same process for other colors.
4. For the rose: Take one piece dough and roll it to a flat thin oval shape. Use mold to cut out 6 circles (about 1 inch).
5. Place 6 circle shapes so that they overlap, then roll into a log and cut into two to form two roses. Follow the same process for other colors.
6. For the ribbon: Roll each dough to a flat disk and use the knife to cut into thin ropes.
7. For the leaves: Roll green dough to a flat disk and use the mold to cut out 3 leaves for each heart shape dough.
8. To assemble: Place the heart shape dough onto a piece of parchment paper, place 3 thin ropes on top of it and followed with 3 pieces green leaves. Then place 3 roses on top of the leaves.
9. Place them into the steamer basket and cover with a lid. Proof for 30 minutes until double its size.
10. Add water to a pot steamer and put the steamer baskets with the buns inside. Steam over medium high heat for 8 minutes.
---