Rainbow Heart Shaped Wagashi
Keep your heart open because these Rainbow Heart Shaped Wagashi will find a way to enter your heart with its wondrous colors and flavors! Made using our Suncore Foods® Blue Butterfly Pea, Midori Jade Matcha, Pink Pitaya, Purple Sweet Potato, Red Beet, and Yellow Goldenberry Powders! Create a fun and creative burst of colors in your sweet delicacies to treat yourself or your loved ones, making all our hearts fluster with its vibrance!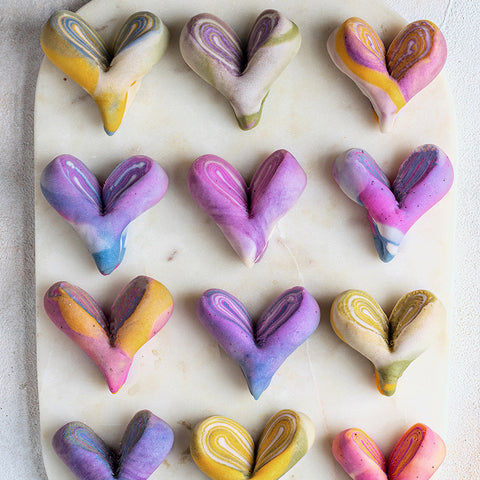 Directions
1. Prepare the Shiro-an first. Soak the beans overnight, at least 12 hours. Remove the skin of each bean.
2. Add an excess amount of water and bring to a simmer, cook about 1 hour until they are soft enough to crush between your fingers. Drain the beans and blend them in a food processor. Remove excess water by squeezing the paste through a cloth.
3. Weigh the paste and measure out sugar that is 1/2 of the weight of the paste. Add the sugar and the paste in a large saucepan over low heat. Keep stirring until it becomes smooth and foldable.
4. Then make the Nerikiri. Combine the water, sugar, and rice flour in a small bowl. Microwave 1 minute and take out to stir, and then microwave another 1 minute.
5. Add Nerikiri with 600 grams of the prepared shiro-an. Fold to mix well until the dough can be shaped with your fingers. If too sticky, microwave 1 minute. Put in the fridge for 2 hours.
6. Divide the dough into 6 pieces, and add the color powder to each piece. Kneed to mix well. Divide each colored dough to 10g small pieces.
7. Take three 10g colored pieces dough and place one piece directly on top of another. Flat the dough using hand and then roll it to an oval shape. Take one edge and roll up jelly roll style. Flat it and roll it to an oval shape again.
8. Fold the dough into half. Cut the dough from the bended end, without cutting the other end. Open out and shape.
---