My Spectacular Heroic Blue Spirulina Pancake Cereal
Feel the blissful morning blue-tiful breeze with these spectacular adorable mini My Spectacular Heroic Blue Spirulina Pancake Cereal and feel the heavenly flavors flow through the dreamy morning sky! Made these pancake cereal by using Suncore Foods® Heroic Blue Spirulina Pancake & Waffle Powder Mix and created the magical blue hues to these adorable treats! Create your own morning dreamy blue treats by following the recipe below! You can also customize the wonderful hues and flavors of your pancake cereals by looking through our amazing selections of Suncore Foods® Pancake & Waffle Powder Mixes!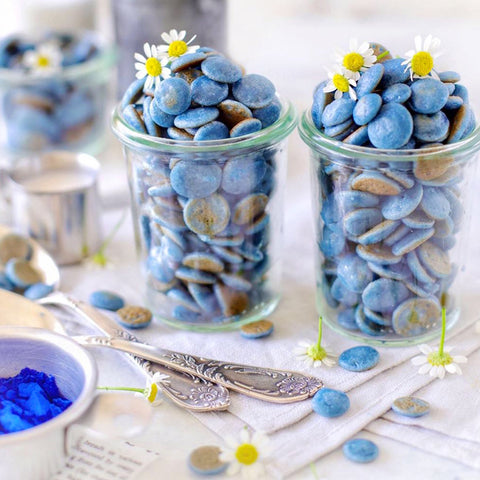 Directions
1. Make your buttermilk and set it aside.
2. Mix your dry ingredients in a small bowl.
3. Use a separate bowl to beat eggs and then add the remaining wet ingredients. Whisk well.
4. Combine the contents of both bowls to make the pancake mix. Stir until the batter reaches a silky-smooth consistency.
5. Warm your non-stick pan at medium heat. Brush it with non-stick cooking spray/coconut oil.
6. Scoop out your mini-pancakes with a spoon. You may use a squeeze bottle/zip-lock bag (with a cut corner) to pour the pancake batter into the pan. Always leave space between each mini-pancake to prevent them from mixing into each other.
7. Cook until the pancakes start to bubble and then flip them.
8. If they're golden brown, resume cooking for 30 secs (or 1 min).
9. Shift them to a bowl when they turn dull golden.
10. Drizzle and douse them with maple syrup or honey. Voila! Your precious pancake cereals are ready to be served.
---