Veggie Quinoa Bowl with Lemon Tahini Dressing
What goes great with Suncore Foods® Snow Quinoa Flakes? How about some perfectly roasted veggies drizzled with lemon tahini dressing? That's how we like our quinoa! How do you like to eat your quinoa?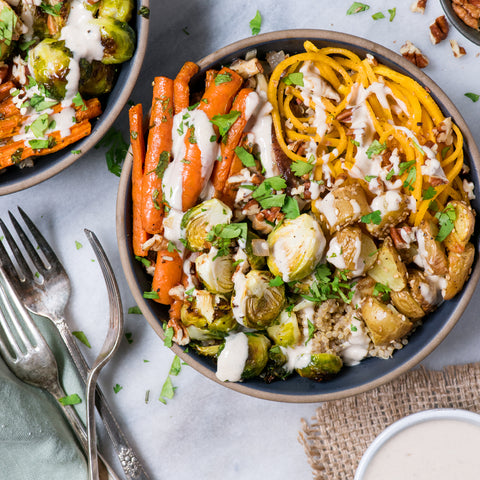 Ingredients
Quinoa:
1 ½ cup Suncore Foods® Snow Quinoa Flakes
3 cup mushroom broth
1 tbsp olive oil
A good pinch salt
Potatoes:
3 cups diced potatoes
1 ½ tbsp olive oil
¼ tsp pepper
½ tsp salt 
1 tbsp sesame seeds
Brussels Sprouts:
2 cup brussels sprouts, halved
1 ½ tbsp olive oil
¼ tsp salt
¼ tsp pepper
Carrots:
1 cup carrots, washed, peeled and quartered lengthwise
1 tbsp olive oil
1 tbsp fresh cilantro
Salt and pepper to taste
Tahini Dressing:
½ cup tahini
1 tbsp lemon juice
½ tsp salt
¼ tsp garlic powder
¼ tsp pepper
A pinch of nutmeg
3-4 tbsp water, add 1 tbsp at a time
Directions
1. Cook Suncore Foods® Snow Quinoa Flakes in broth and salt according to package directions. Cover and set aside.
2. Preheat oven to 375ºF. Prep all veggies and roast for about 20-25 minutes (the carrots will likely be ready first, so be sure to keep them separate).
3. Whisk together all ingredients except water. The consistency will be very thick. Begin adding 1 tbsp of water at a time and whisk until incorporated. If the texture looks strangely grainy, don't panic! Simply add more water to reach a smooth texture.
4. To assemble bowls, start with a base of quinoa, top with veggies, chopped pecans and a healthy drizzle of tahini. Enjoy!
---