Purple Sweet Potato Twisted Milk Bread
Mouthwatering, soft & fluffy, and magical Purple Sweet Potato Twisted Milk Bread—The perfect toast for all food lovers and perfect for the Thanksgiving right around the corner! Incorporated our Suncore Foods® Purple Sweet Potato Powder to create this beautiful vibrant purple spirals and delicious flavor! Who wants one?!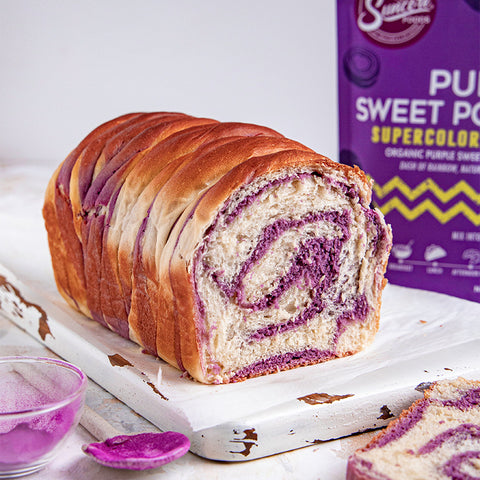 Ingredients
For A 25 x 10 cm Pan:
For the water roux (tangzhong)
25g (2.5 tbsp) flour
120ml (1/2 cup) water

For the Bread — Dry Ingredients:
9g (2.5 tsp) instant yeast
350g (2.75 cups) bread flour
65g (1/3 cup) light brown sugar
5g (1 tsp) salt
2 tbsp Suncore Foods® Purple Sweet Potato Powder

For the Bread — Wet Ingredients:
120 ml (1/2 cup) warm soy milk (55C|110F)
All the roux:
50g (1/4 cup) softened plant-based butter
Directions
1. Make the Roux – in a small saucepan, combine the bread flour, milk, water, and whisk to remove any lumps. Cook over medium-heat for a 3-5 minutes whisking continuously, until the roux starts to thicken. The roux should have a consistency of a curd. Remove from the heat and let cool to room temperature.
2. In a medium bowl, combine the dry ingredients.
3. Add the warm milk and roux to the bowl of a stand mixer fitted with the hook attachment. Then add the dry ingredients. Turn the mixer on medium-low and mix for 5-7 minutes until gluten develops and dough feels elastic.
4. Add the butter one tablespoon at a time and wait until it's fully incorporated before adding more. Mix for another 5-7 minutes until the batter is completely incorporated and the dough is smooth and feels elastic. Note: The dough will be a bit tacky, but feels elastic. Using wet hands, shape the dough into a ball. Transfer to a greased bowl, cover, and let rise until doubled in size for 60-90 minutes.
5. Divide dough and color one part with oriole Suncore Foods® Purple Sweet Potato Powder.
6. Roll out both dough into a 25x50 cm rectangle.
7. Place purple dough over the plain and gently roll to seal.
8. Using a cutter, divide the dough into stripes following the long side (8x 3 cm large stripes), leaving 5 cm from the edge so that they're not completely cut. Twist each strip.
9. Roll dough into a log.
10. Let the shaped bread rise for 30-45 minutes. Preheat oven to 175 C degrees and bake for 25 minutes or until golden brown.
11. Remove from oven and let cool into the pan for 10 minutes before transferring to a rack to cool down completely.
12. Cool completely before slicing!
---