Mushroom Red Beet Risotto Cakes
Pan-fried risotto cakes are truly delicious but how about Red Beet Risotto? It is beyond AMAZING!! We love having risotto in the winter but this recipe has now become our favorite ways to enjoy. Mushroom Red Beet Risotto using our Suncore Foods® Red Beet Powder and kept them in the fridge overnight before pan-fry them to crispy cakes! So if you have some leftover risotto, you know what to do.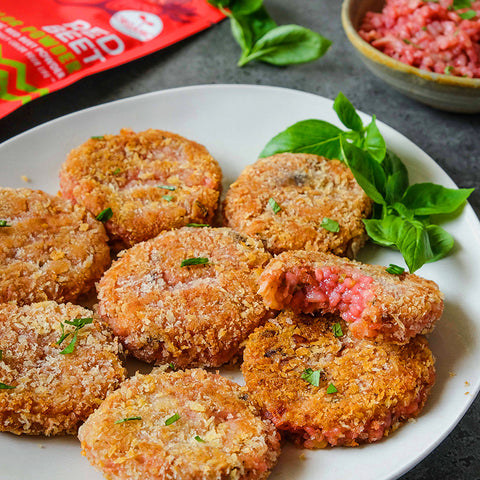 Ingredients
2 cups leftover risotto, best if refrigerated overnight—combined with mushroom and Suncore Foods® Red Beet Powder to give that nice pink color
3/4 to 1 cup breadcrumbs
2 tbsp flour of choice
1/4 cup room temperature water
1 tsp salt
Oil for frying
Chopped basil for garnishing
Directions
1. In a bowl, mix in the flour, water, and salt until smooth.
2. Roll the risotto into balls then flatten into patties. Mine were roughly 2.5" in diameter and about 3⁄4-inch thick.
3. Dip the risotto patties into the flour mixture. Transfer into the breadcrumbs then coat well. Repeat this step for the rest of the patties.
4. Heat a nonstick or cast iron pan over medium high heat with oil enough to submerge at least a quarter of the patty.
5. Once hot, place 3-4 patties depending on the size of your pan. Cook for 3-4 minutes on each side over medium heat. Flip then cook the other side until golden brown.
6. Remove from the pan. Turn off heat. Drain excess oil and then top with some homemade cheese sauce (if desired). Enjoy while hot with a side salad!
---