Purple Sweet Potato Soup
Move over pumpkin there's a new fall flavor in town! Make way for the purple sweet potato! Who doesn't love a bowl of hot, comforting soup? Especially when the soup is a beautiful color! The perfect soup to give you that warm and fuzzy feeling.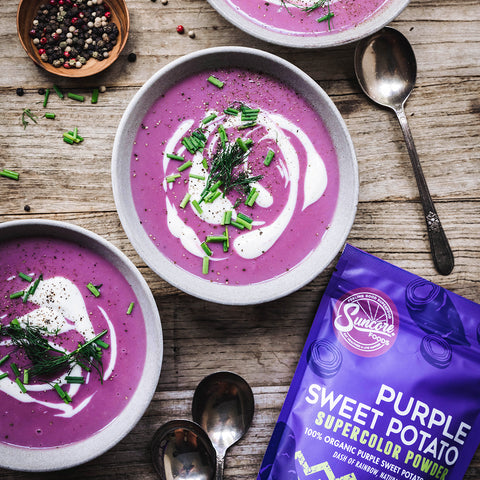 Ingredients
1 medium yellow onion, diced
1 leek, diced
⅓ cup vegan butter
4 cups chopped cauliflower (purple if can find)
4 large cloves roasted garlic
1 ½ cups peeled, chopped yellow potatoes
1 ½ cups of peeled, chopped purple potatoes or purple sweet potatoes*
4 celery stalks, diced ( approx. 1 1/2 cups)
6 cups low sodium vegetable broth
1 ½ tsp salt
½ tsp cracked black pepper
¼ cup Suncore Foods® Purple Sweet Potato Powder
Fresh chives
Fresh dill
For garnish: yogurt, fresh herbs
Directions
1. Preheat oven to 375. Toss cauliflower with 4 tbsp olive oil and sprinkle with some sea salt and a few cracks of black pepper. Drizzle a bit of olive oil, some salt and pepper oil over the garlic cloves. Roast cauliflower and garlic cloves for 20 min, then remove from oven.
2. Heat ⅓ cup vegan butter in large stock pot over medium heat. Add onion and leek and sauté for 5-7 minutes. Add potatoes, and celery and continue cooking, stirring several times, for 10 min. Add in roasted cauliflower, roasted garlic, vegetable broth, salt, pepper and stir well. Bring to a boil, cover, and reduce heat to medium-low. Cook for 20-25 minute,s stirring 2-3 times until potatoes and cauliflower are softened.
3. Purée mixture using either an immersion blender or a heat resistant high speed blender. Add in Suncore Foods® Purple Sweet Potato Powder and puree until smooth. Stir in dill and chives. Serve in soup bowls and top with a swirl of yogurt, chopped herb.
*If cannot find purple potatoes, simply double amount of yellow potatoes
---