Purple Sweet Potato & Yam Sesame Balls
The air is warmer, the birds are singing, and we've got colorful springtime desserts on our minds. Gold and royal purple deep fried Purple Sweet Potato & Yam Sesame Balls are an irresistible treat. Made with sticky rice flour dough and added Suncore Foods® Autumnal Baked Sweet Potato Yam, Ebony Carrot, and Purple Sweet Potato Powders, filled with sweet paste, rolled in sesame seeds, and fried until golden crispy on the outside, but still soft & chewy on the inside. If you never tried sesame ball before, it tastes like a fried mochi ball. You can add many different fillings to it, such as red bean paste, yam sweet paste, lotus seed paste, or taro paste. If you don't have any fill on hand, they also taste amazing on their own. This dessert is best served while still hot so, ideally, eat them as soon as possible for the best taste. These mighty crispy treats will satisfy your sweet cravings.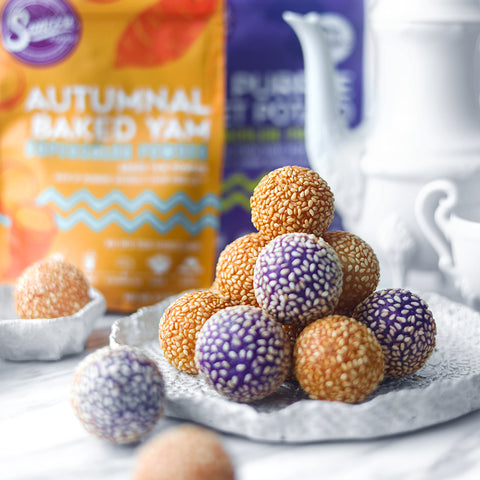 Directions
1. In a big bowl, add glutinous rice flour, sugar and then pour the water, quickly stir well. Knead dough by hand for a few minutes until the dough is soft and smooth.
2. Divide the dough into equal pieces, roll them into balls.
3. Prepare two bowls, one with water and the other with sesame seeds. Take one ball with one hand dip with water. Roll the ball in the sesame seeds until the dough is covered.
4. Heat the vegetable oil in a large pot until it reaches 70c. Fry the sesame balls until golden brown. Serve warm.
---