Purple Sweet Potato Sago Pudding
One of our happy childhood memory desserts growing up & with the added Suncore Foods® Purple Sweet Potato Powder, it gotten even better! All you need is a few basic to make this sweetly delicious Purple Sweet Potato Sago Pudding! Light and refreshing. Fun and tasty. The happy ending of a scrumptious meal and watch everyone's eyes light up in delight!! Want to get a taste?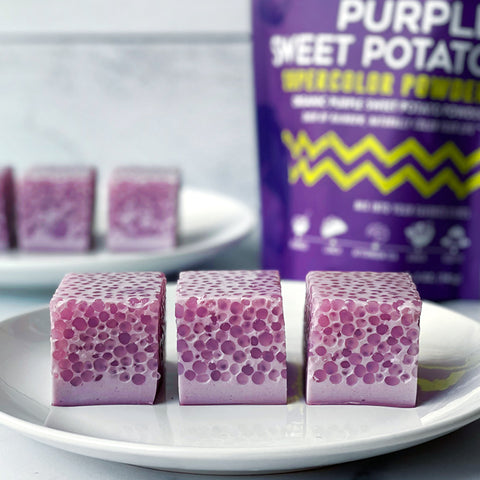 Directions
1. Boil at least 750 ml of water over high heat. Once boiling, reduce to medium heat, add sago pearls, and simmer for 10 minutes uncovered, stirring occasionally. Remove from heat, cover with lid, and let stand for 15 minutes. Drain, rinse with cold water, and set aside.
2. Combine coconut milk, whole milk, sugar, and gelatin in a medium saucepan. Stir well, then add Suncore Foods® Purple Sweet Potato Powder. Turn on stove to medium-low heat and stir as mixture's clumps will reduce. Add drained sago pearls.
3. Continue stirring until it comes to a boil, then turn off heat. Pour into two 6"x4" (15cm x 10cm) or one 8"x8" (20cm square) glass containers. Let cool completely, then chill in fridge for 8 hours or overnight. Once firm, run spatula or knife all around edges to loosen, then flip. Cut into desired squares and ENJOY!
---