Purple Sweet Potato Hokkaido Milk Bread
This Purple Sweet Potato Hokkaido Milk Bread seriously looks softer than a cloud! You won't just want a slice, you'll want a whole loaf! This recipe uses a dash of Suncore Foods® Purple Sweet Potato Powder to create this incredible lavender color! Create this fluffy loaf for yourself!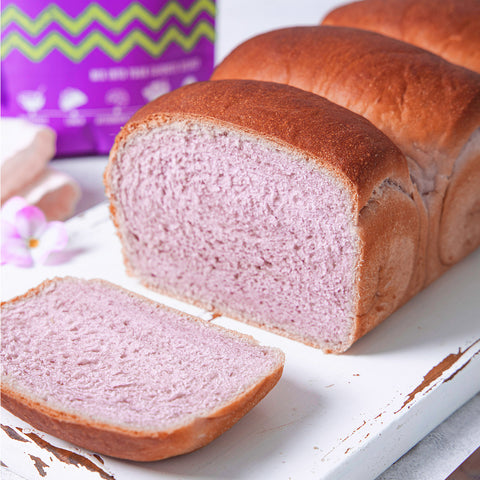 Ingredients
For the Bread Starter (roux or tangzhong):
25g bread flour ("0" type in Europe)
50ml water
50ml oat milk

For the Bread:
½ cup oat milk, warm (55C | 110 F)
1/4 cup vegan butter

Dry Ingredients:
1 pack instant yeast
2 ¾ cups bread flour
2 tbsp coconut milk powder
⅓ cup light brown sugar
1 tsp salt
2 tbsp Suncore Foods® Purple Sweet Potato Powder
Directions
1. Make the roux: In a small saucepan, combine the bread flour, milk and water and whisk to remove any lumps. Cook over medium-low heat for 3-5 minutes whisking continuously, until the roux starts to thicken.
2. The roux should have the consistency of a curd. Remove from heat and let cool to room temperature.
3. In a medium bowl, combine the dry ingredients.
4. Add the warm milk and roux to the bowl of a stand mixer fitted with the hook attachment. Then add the dry ingredients.
5. Turn the mixer on medium-low and mix for 5-7 minutes until gluten develops and the dough feels elastic.
6. Add the butter one tablespoon at a time and wait until it's fully incorporate before adding more. Mix for another 5-7 minutes until the butter is completely incorporated and the dough is smooth and feels elastic. Note: The dough will be a bit tacky, but feels elastic.
7. Using wet hands, shape the dough into a ball.Transfer to a greased bowl, cover and let rise until doubled in size for 60-90 minutes.
8. Transfer dough onto a lightly floured surface and divide into 4 equally sized pieces.
9. Roll each out to be 20x12 cm| 8"x5" and then fold the shirt ends toward the center as folding a letter. Flip it seal side down and roll the dough again. Flip it over again and starting on one of the shorter edges, roll up and then place in a greased 22x10cm |9"x4" pan. Repeat with each piece of dough. Cover and let rise an additional 45 minutes.
10. Brush the loaf with oat milk and bake at 175C| 350°F for about 25-30 minutes.
11. Remove from the oven and let cool into the pan for 10 minutes before transferring to a wire cooling rack.
---