Butterfly Pea Flower Lime Tart
A slice of this refreshingly sweet and tangy tart will leave your eyes and taste buds in awe! The stunning color of this Lime Custard Tart with a Sweet Butterfly Pea Jelly "blue" us away! Infused Suncore Foods® Butterfly Pea Flowers, in the jelly and created this breathtaking blue hue. This blue-tiful treat will surely "blue" your friends and family away!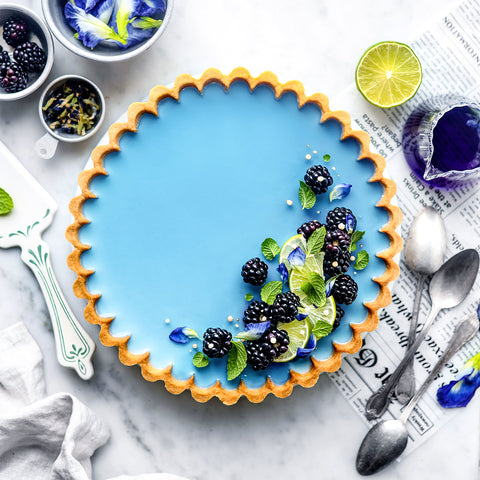 Ingredients
Crust:
2 cups all purpose flour
1/3 cup powdered sugar
120g cold coconut oil
1 1/2 tsp vanilla bean extract
1 tbsp cold plant milk as needed

Lime Filling:
1 cup lime juice
1 tbsp lime zest
1 1/2 cups full fat coconut milk
1 cup plant milk
1/3 - 1/2 cup maple syrup (adjust to taste)
1 tbsp cornstarch
1 tsp agar agar powder 

Butterfly Pea Flower Jelly:
1 1/2 cups water
1 tsp Suncore Foods® Butterfly Pea Flowers
1/4 cup maple syrup
1/2 tsp agar agar powder
Directions
1. Preheat oven to 180c. Grease a 8" tart pan. Set aside. In a food processor, add crust ingredients pulse until a dough ball forms. Chill dough for 5-10 minutes if it gets warm. Roll dough into a large circle and carefully lift the dough and place on the prepared pan. Bake at 180c for 15-20 minutes. Allow to cool completely.
2. Lime Filling – In a saucepan, combine the coconut milk, plant milk, lime zest. Bring to a boil, constant stirring. Add agar-agar, cornstarch and whisk until agar completely dissolved. Then add in maple syrup, lime juice whisking constantly. Allow to boil for approximately 30 seconds. Remove from heat and strain it through a fine mesh sieve into a heatproof bowl. Allow mixture to cool for 5 mins. Pour lime mixture to a cooled tart shell and place in the fridge to set. It will take 1-2 hours to set.
3. Butterfly Pea Flower Jelly – In a saucepan add water and Suncore Foods® Butterfly Pea Flowers. When it starts boiling, add the agar powder. whisking constantly until agar has dissolved. Then whisk in maple syrup. Allow to boil for approximately 30 secs. Turn off the heat, allow to cool for 10 mins. Strain it through a fine mesh sieve. Allow mixture to cool to room temperature before gently pouring over the top of the set lime filling. Place tart in the fridge for 4 hours or overnight to set
---