Cacao Nibs Chocolate Crunch Bars
Get your chocolate fix with these protein chocolate crunch bars!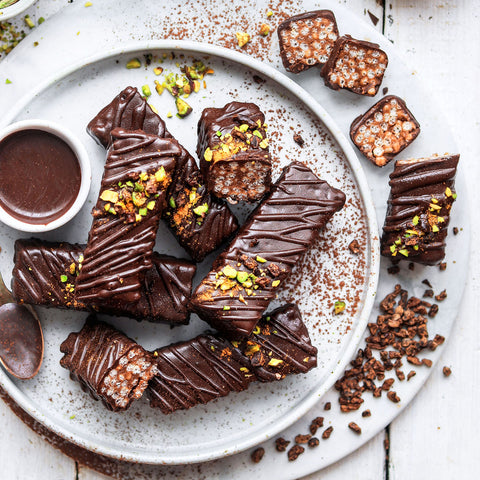 Ingredients
Chocolate Bars:
2 cup crispy rice cereal of choice
½ cup peanut butter
½ cup rice malt syrup
1 packet protein powder of choice
200g dark chocolate melted
¼ cup coconut oil
Toppings:
1 tablespoon
Suncore Foods® Cacao Nibs
1 tablespoon pistachio nuts
A pinch of turmeric
Directions
1. Prepare a 6x6 baking pan by lining it with parchment paper.
2. In a large mixing bowl, combine crispy rice cereal and protein powder of choice, and mix well.
3. Add the rice malt syrup, peanut butter and mix until everything is fully combined and all the cereal is well coated.
4. Transfer mixture to the lined baking pan, press firmly and place in the freezer until firm. When the bars are firm, cut into 12 bars and place back in the freezer.
5. To coat with chocolate, place the individual bar into a fork. Hold the fork over the chocolate bowl. Use a spoon to drizzle the chocolate over the top and gently tap the fork on the edge of the chocolate bowl to remove excess chocolate. Place in the freezer to set.
6. Melt dark chocolate with coconut oil and start dipping each bar in the chocolate. Sprinkle bars with Suncore Foods® Cacao Nibs, pistachio nuts, and turmeric powder. Store in the fridge in an airtight container for up to one week.
---