Chia Jelly Donuts
Who can resist a soft pillowy jelly donut this delicious?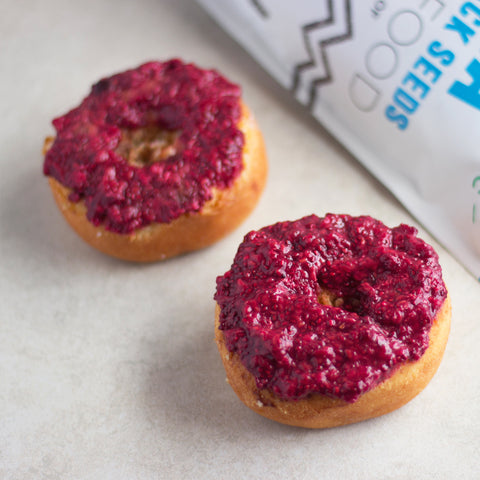 Ingredients
Donuts:
1 ½ cup flour
¾ cup organic sugar
2 teaspoon baking powder
¼ teaspoon salt
¾ cup almond milk
1 teaspoon apple cider vinegar
2 tablespoon applesauce or mashed banana
Chia Jelly:
1 cup chopped fruit of choice
½ tablespoon lemon juice
½ tablespoon agave or maple syrup
1 tablespoon Suncore Foods® Black Chia Seeds
Directions
1. Chia Jelly – In a small saucepan, add in fruit and cook on medium heat until it reaches a syrup consistency (5-10 minutes). Remove from heat and add lemon juice and sweetener. Stir in Suncore Foods® Black Chia Seeds and let it stand for about 10 minutes. Transfer to a jar and let cool. Place in fridge.
2. Donuts – Preheat oven to 350°. Make your "buttermilk" by combining the apple cider vinegar and milk. Let sit for about 15 minutes. Mix your dry ingredients and wet ingredients separately. Combine your batches and add in your "buttermilk". Pour batter into a greased donut pan and bake for about 15 minutes or until lightly browned. Let cool completely then spread on your chia jelly.
---