Pretty Pink Choux Au Craquelin
We have fallen utterly in love with these pink, petite choux! Choux au craquelin are cream puffs with a thin cookie layer that melts away into a crumbly layer with a rich caramel flavor. Cream puffs are a definite crowd pleaser with their rich and silky, custardy pastry cream filling and delicate, melt-in-your-mouth pastry, so they make a fantastic gift to share your love, especially when they pop with a striking pink color! With Suncore Foods® Cerise Prickly Pear Powder in the craquelin, the choux pastry, AND the filling, these Pretty Pink Choux Au Craquelin are extra fun and extra delicious because life isn't meant to be basic. And to be extra extra, add some fun little meringue characters! Just take a look at the sweet little chickadee and llama peeking through the choux!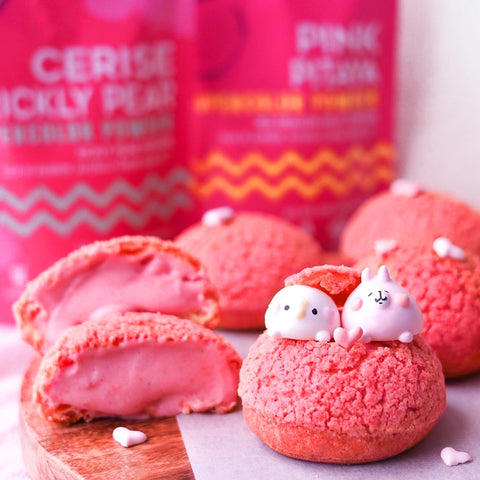 Directions
1. Craquelin — In a large bowl, add butter and sugar, mix well. Sift in flour and Suncore Foods® Cerise Prickly Pear Powder, mix together to form a dough. Roll out the dough into 2mm thick. Freeze the dough for 15 mins. Cut out the dough into 11 pieces using a 5cm cookie cutter. Keep them in the freezer before use.
2. Choux Pastry — Preheat the oven to 190°C/ 374°F. In a saucepan, add milk, water, unsalted butter, sugar, and salt. Bring it to a simmer over medium heat. When it's simmering, add sifted bread flour and keep whisking. On medium-high heat, keep cooking for around 2 mins (you will find a thin film of dough at the bottom of the pan). Transfer the mixture to a stand mixer fitted with a paddle attachment. Add egg gradually, keep beating until smooth. Transfer to a piping bag. Pipe it on parchment paper (5cm in diameter). Put the craquelin on top of the choux pastry. Put the pan of choux pastry into the oven, bake for 15mins, change the temperature to 160°C/ 320°F, bake for another 20 mins. Turn off the oven, leave them inside for 5 mins before removing. Let them cool down completely.

3. Filling — Add two egg yolks in a large bowl. Add sugar and mix well. Sift together Suncore Foods® Pink Pitaya Powder and cornstarch and mix well. Generally add hot milk to the mixture, keeping stirring. Place a non-stick pan over medium heat. Pour the mixture into the pan. Keep stirring until thick and creamy. Add butter and stir until it's melted. Place the custard in a large bowl. Cover with cling wrap (directly touching the custard). Refrigerate for 1 hour. Beat together whipping cream and Suncore Foods® Pink Pitaya Powder until stiff. Beat the chilled custard until smooth. Mix half of the whipped cream with the custard. Add the rest of the whipped cream. Beat until smooth. Fill the choux au craquelin.
---