Pistachio Matcha Cupcakes with Pink Pitaya Rosewater Frosting
Step up your dessert game with these next-level cupcakes! These Pistachio Matcha Cupcakes with a sweet, delicate Pink Pitaya Rosewater Frosting will leave your tastebuds jumping for joy!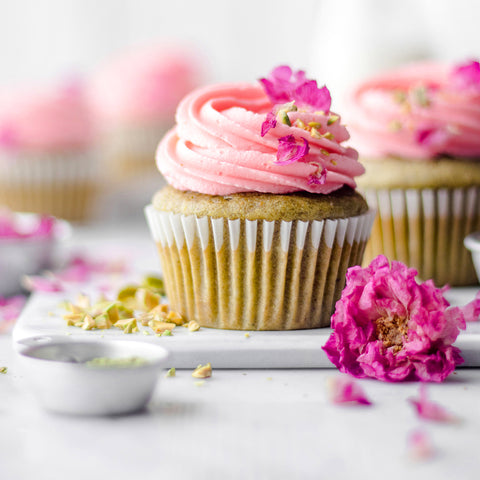 Directions
1. Preheat the oven to 170c. Prepare muffins pan with liners, set aside. 
Place pistachios in a food processor and pulse into fine crumbs. Transfer to a mixing bowl, add flour, cornstarch, powdered sugar, baking powder, baking soda and salt. Stir to combine. Set aside.

2. In a separate bowl, whisk together milk, coconut oil, vanilla, Suncore Foods® Midori Jade Matcha Powder, white vinegar. Pour wet mixture into dry ingredients and mix until incorporated.
 Divide batter evenly between 8 lines in a muffin pan. Bake for 20 mins or toothpick comes out clean. Transfer to a wire rack to let cool completely before frosting.
3. Pink Pitaya Rosewater Frosting — Whip butter in the stand mixer bowl with the paddle attachment, on medium to high speed for about 2 mins. Stop mixer and add the powdered sugar. Mix on low speed until incorporated, scrape the bottom and sides of the bowl and then add in rosewater & Suncore Foods® Pink Pitaya Powder (if you're looking for thinner consistency, add 1/2 to a tbsp of milk). Mix on high speed for 2-3 mins until smooth.
---