Pink Pitaya Buttercream Cupcakes
Nothing says Valentine's Day like these moist and fluffy Pink Pitaya Buttercream Cupcakes frosted to perfection! We're definitely loving these sweet treats at first bite. Suncore Foods® Pink Pitaya Powder incorporated to the buttercream frosting to get that gorgeous vibrant pink color! We need a whole platter of these cupcakes.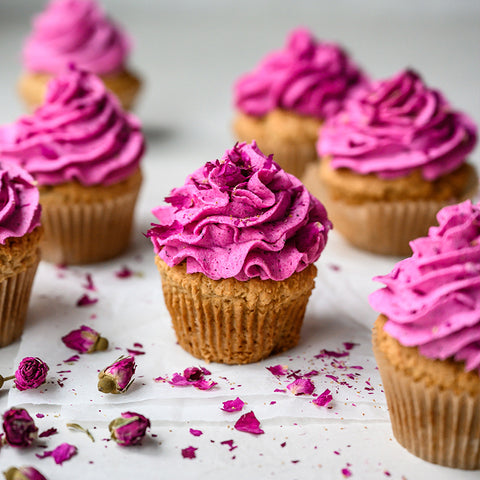 Ingredients
Cupcakes:
1/3 cup vegan butter, softened
1/2 cup unsweetened applesauce
1 cup cane sugar
1 tbsp vanilla extract
1 cup almond milk (brought to room temp)
1 tbsp freshly squeezed lemon juice
2 cups gluten free all purpose flour blend
1/2 cup almond flour
1/2 cup oat flour
1 1/2 tsp baking powder
1 tsp baking soda
1 tsp xanthan gum
1/4 tsp salt

Pink Pitaya Buttercream:
1 cup vegan butter, softened
3 cups powdered sugar
1/4 cup Suncore Foods® Pink Pitaya Powder
2 tsp vanilla bean paste (or vanilla extract)
2 tsp dairy free creamer
Pinch of salt
Directions
1. Preheat oven to 335F. Whisk together almond milk and lemon juice. Add all dry ingredients to a large mixing bowl and whisk. In a separate bowl, blend butter, applesauce, sugar, and vanilla together using an electric hand mixer. Slowly add dry mixture to wet mixture. Add in almond milk and lemon juice mixture. Mix at medium speed until everything is well combined. Transfer batter to cupcake liners in pan. Bake for 27-29 minutes. Let cool completely, frost, and frost with buttercream!
2. Cream butter in mixing bowl. Stir together powdered sugar and Suncore Foods® Pink Pitaya Powder in a bowl and slowly add this to the butter. Once the sugar mixture is mixed in well, add in vanilla, dairy free creamer, and salt and blend again. Put frosting in a piping bag and top completely cooled cupcakes. Store in refrigerator.
---