Pink Pitaya Buttercream Frosting Brownies
Ready to satisfy your sweet tooth cravings? We have the PERFECT treat for that! What's even better is there's no baking required! These Pink Pitaya Buttercream Frosting Brownies incorporate Suncore Foods® Pink Pitaya Powder to create this incredible pink buttercream frosting. We'll have to stop ourselves from enjoying more than 2! How many brownie squares will you enjoy?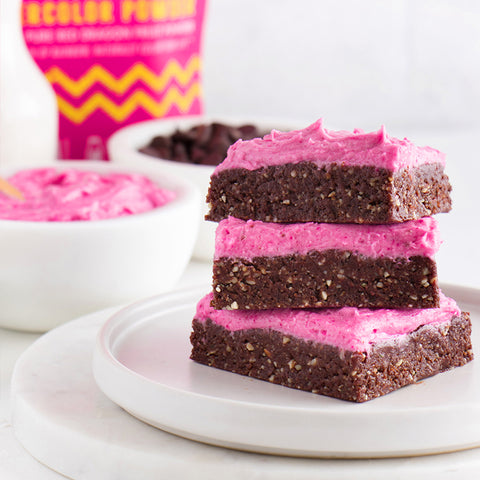 Ingredients
Brownies:
1 cup raw walnuts
1 cup raw almonds
½ cup Suncore Foods® Hemp Seeds
½ cup cacao powder
20 large medjool dates
1 tsp vanilla extract
¼ tsp salt
Pink Pitaya Buttercream Frosting:
1 can full-fat coconut milk
½ cup vegan butter (1 stick)
2 cups powdered sugar
1 teaspoon vanilla extract
2 teaspoons Suncore Foods® Pink Pitaya Powder
Directions
1. At least 1 day before making this recipe, store the can of full-fat coconut milk in the refrigerator. This will separate the can into a layer of coconut cream and a layer liquid, which is necessary for creating the frosting.
2. To prepare the brownies, first remove each pit from the medjool dates. If your dates are not fresh and soft, soak them in warm water for 5 minutes. After, drain the water and use a paper towel to pat the dates dry.
3. Next, combine the walnuts, almonds, Suncore Foods® Hemp Seeds, cacao powder, medjool dates, vanilla extract, and salt into a high-speed food processor. Process the ingredients until a sticky, dough-like consistency is formed.
4. Line an 8x8 dish with parchment paper (for easy removal of the brownies later on). Using clean hands, add the brownie mixture to the dish and firmly press it into a flat layer. Store in the refrigerator while you prepare the frosting.
5. To create the frosting, first remove the can of coconut milk from the refrigerator. Upon opening the can, you'll notice a layer of thick coconut cream. For this recipe, you will only utilize this cream. Scoop out ¼ cup of the coconut cream and add it to a large bowl along with the butter and vanilla extract. Use a hand mixer to beat the ingredients until nearly smooth, which may require several minutes to complete.
6. Next, add a ½ cup of powdered sugar and beat the ingredients until thoroughly combined. Repeat until all 2 cups of powdered sugar are used. Lastly, add in the Suncore Foods® Pink Pitaya Powder and beat until well incorporated.
7. Finally, remove the brownies from the refrigerator and frost the surface. Slice the brownies and serve immediately, or keep stored in the refrigerator for later consumption.
---