Cosmos Red Cabbage Pink Pitaya Shrimp Tacos
Knowing there are tacos on your plate makes life a lot tastier and a lot more enjoyable. Step up your taco game with our Suncore Foods® Cosmos Red Cabbage & Pink Pitaya Powders to achieve this fun and pretty pink hue tortilla shell. Happiness is carnitas wrapped in a tortilla and topped with salsa and sauce. This recipe will guac your world! Let's taco about happy stuff.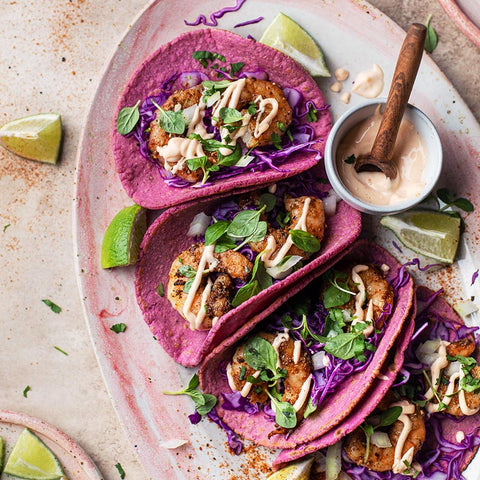 Directions
1. Dissolve Suncore Foods® Cosmos Red Cabbage Powder & Suncore Foods® Pink Pitaya Powder in water.
2. In a large bowl add cornflour, salt and Suncore Foods® Powders mixture. Mix with a spatula until all ingredients are combined. Knead with hands until the dough comes together. Press the dough with you hand, if it cracks the nits too dry, add a little more water, if it sticks then you need to add more corn flour.
3. Roll dough into small balls. Place the dough ball on the tortilla press between 2 pieces of parchment paper and press to flatten it. Cook for 15 seconds on a preheated over medium heat pan then flip the tortilla and cook for 30 seconds more.
4. Coat shrimps with seasoning mixture and cook for 1-2 minutes in a pan with oil. Squeeze the juice of 1 lime over the shrimp. In a bowl combine Sriracha and mayo.
5. Fill you tortillas with shredded cabbage, shrimp, cilantro and top with Sriracha Mayo.
---