Passion Fruit Meringues
We all need a little "treat yourself" snack and these meringues are calling your name! Light, airy, and perfectly paired with a slightly sweet and tangy flavor of our Sparkly Passion Fruit Flakes it's impossible to have just one! Plus, everything's better with sparkles, right?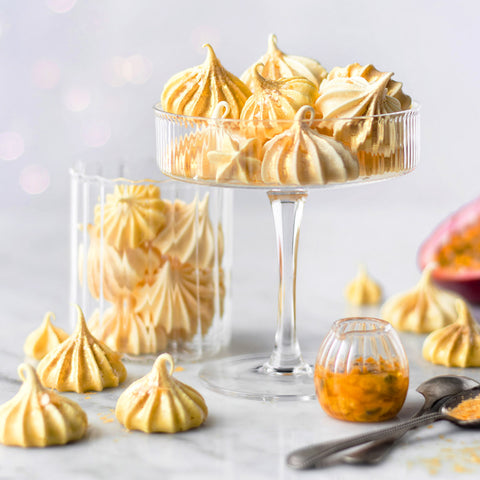 Directions
1. Preheat the oven to 110c. Line a baking tray with greaseproof paper. Clean bowl and whisker using kitchen towel with a little bit of vinegar. Place the aquafaba into the bowl of an electric mixer.
 Whisk for 5 mins until it's double in size and foamy.
2. Slowly add powdered sugar, one tablespoon at the time. Whisking until the mixture forms stiff, glossy peaks (15 mins). Add lemon juice, Suncore Foods® Powders, and whisk to combine.
3. Transfer the meringue mixture into an icing bag and pipe into cookie shapes. Bake for 2 hrs.
4. After 2 hours. (Meringue might take a little longer to dry if they are bigger) Take them out of the oven, let them cool and sprinkle with sparkly amber passion fruit flakes. Enjoy!
5. Store in a dry place so they maintain their shape.
---