Passion Fruit Blueberry Tart
S-tart your day with a little passion and sparkle because dessert just got a little more fun and sparkly! This is the perfect refreshing no-bake summertime Passion Fruit Blueberry Tart that you don't have to worry about having leftovers!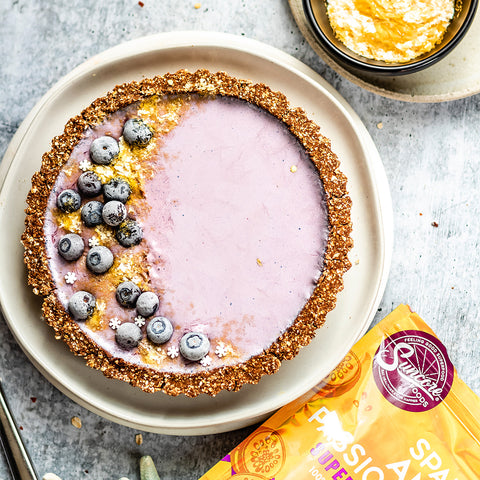 Directions
1. In a food processor, blend the crust ingredients into a sticky, sand-like mixture. Transfer to a greased tart pan and press into the edges, then set aside to chill.

2. In a pot on medium-low heat, bring the coconut milk and blueberry puree to a simmer while stirring constantly. Whisk in remaining filling ingredients, then remove from heat and let cool for 7-8 minutes. Pour into the prepared tart crust. Place the tart in the fridge to set for 2+ hours before serving.

3. To decorate, sprinkle on some Suncore Foods® Sparkly Amber Passion Fruit Flakes!
---