Pink Pitaya & Red Beet Glaze Passion Fruit Pavlova
Crispy, crunchy, chewy, and delicious, this beautiful Pink Pitaya & Red Beet Glaze Passion Fruit Pavlova is irresistibly mouth-watering. Popular in Australia and New Zealand, pavlovas are a texturally sensational dessert we're hoping to see more often, so let's grab our knives and spoons and crack into that shell and dig in! Inside this delightfully crisp meringue, is a divinely chewy, marshmallow-y center that instantly melts on your tongue. And to balance out the sweetness is a bright and vibrant medley of a creamy passionfruit curd colored with Suncore Foods® Marigold Passion Fruit Powder & Seeds, a red beet syrup made with Suncore Foods® Red Beet Powder & Suncore Foods® Pink Pitaya Powder, and a heaping mound of fresh berries. Enjoy!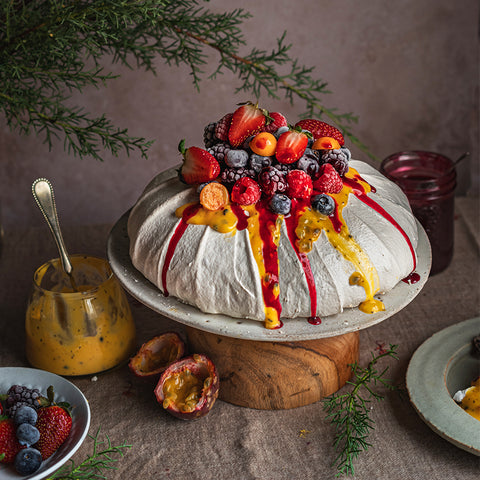 Directions
1. Pavlova — Preheat the oven to 350F. Take a baking tray and line it with parchment paper. You can draw a circle to guide the pavlova later on. Using a stand up mixer, beat the egg whites on low speed (number 2-4 ) until it reaches a soft peak to incorporate air. Add one/two tablespoons of castor sugar spacing between 30 -45 seconds until the sugar has dissolved in the egg white. Continue doing this on low speed until all sugar is done. When the meringue is shiny and no sugar granules are felt when meringue is rubbed against your fingers, add the cornstarch, cream of tartar and vanilla extract. Mix for another 45 seconds on medium speed. Pile and shape the meringue using a spatula on parchment paper. Put the meringue in the oven and lower the oven temperature to 200F immediately. Bake for 1.5 hours without opening the oven door. Leave the meringue undisturbed with the door closed to cool down in the oven for at least 6 hours/ overnight to avoid cracking.
2. Passion Fruit Curds — Mix the yolks with lemon juice until well combined. In a saucepan mix Suncore Foods® Marigold Passion Fruit Powder & Seeds with water, and mix it well to get rid of any lumps, then add the pulp from fresh passion fruits and sugar. Cook in low-medium heat until the sugar dissolves. Pour the hot passion fruit mixture into the egg yolk slowly, whisking it to blend well. Put the mixture back in the saucepan and cook on low heat while stirring it vigorously to avoid the yolk from being lumpy. Once the mixture reaches 165 F, remove from heat, add butter cubes, and let it melt then mix well until combined. Pour the curd into a sterilized jar. To prevent curd skin from forming, cover the surface of the curd with saran wrap (the wrap needs to touch the curd). Curd is good for up to a week in the fridge or for up to 6 months in the freezer.
3. Pink Pitaya Red Beet Syrup — In a saucepan, on a medium heat, mix 200 ml of water, sugar, Suncore Foods® Pink Pitaya Powder, Suncore Foods® Red Beet Powder and well combined. When the sugar has dissolved, make a cornstarch slurry with the remaining water, and pour it into the saucepan. Cook until the syrup has thickened, remove from heat and pour into a heat resistant jar and cool down before using. Cut the meringue and serve it with creamy passion fruit curd, berries and pink pitaya red beet syrup. Enjoy!
---