Christmas Tree Waffles
One look at these Christmas Tree Waffles, and you will want to sleigh brunch. Who can resist the adorable whimsy of these festive waffles equipped with an addictive peppermint cream snow trimming and Suncore Foods® Zen Midori Matcha Pancake & Waffle Mix and Suncore Foods® Midori Jade Matcha Powder for that earthy sweet flavor of ceremonial grade matcha flavor and festive green color! Great for the kiddos on Christmas morning or for those Christmas fanatics at brunch, you're sure to win the hearts of anybody with these incredibly fluffy and aromatic waffles! Let's get into feast mode and get the waffle iron going!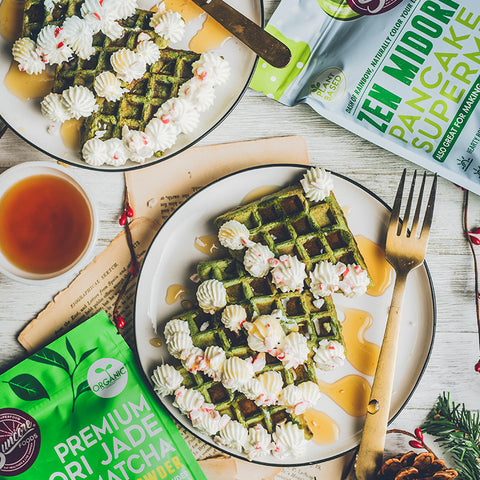 Directions
1. Waffle — Preheat your waffle iron to a medium heat. Whisk your dry ingredients together in a bowl. In a separate bowl, take your egg whites and with an electric whisk or hand mixer, whip your egg whites until foamy and just as peaks form. Add in your greek yogurt, vanilla extract, oat milk (or milk of choice) and mix. Add your dry ingredients into your wet ingredients and fold together until no dry ingredients can be seen. Take a 1/2 cup of batter and add to the middle of waffle iron, press down and allow to cook for about 3-4 minutes or until your waffle irons light turns green (Mine does this and it is SO convenient). Break into quarter pieces to create a tree, and decorate with your whip!
2. Peppermint Whip — In another bowl, add your heavy whipping cream and with the electric whisk or hand mixer, whisk until stiff peaks form. (Don't over whisk tho, you'll end up with butter!) Add in your powdered sugar and extract and mix. To decorate your waffles with cute piping, add your whip into a piping bag and a decorating tip and squeeze out your whip along edges of waffle. Enjoy!
---