Goldenberry Panna Cotta
Rich, creamy goodness, and simply delightful dessert perfect for entertaining and incredibly simple to make. Every mouthful of this Goldenberry Panna Cotta is sure to pleasantly please your palate. A true showstopper for a dinner party or weekend celebration. This recipe combines beautifully with Suncore Foods® Red Beet & Yellow Goldenberry Powders to achieve the bright and cheerful color. With our magnificent selection of powders, there is no end to the variety you can add to this luscious yet versatile dessert from Pink Pitaya to Lilac Taro Yam, Midori Jade Matcha to Indigo Blueberry, and many more. Try it out today!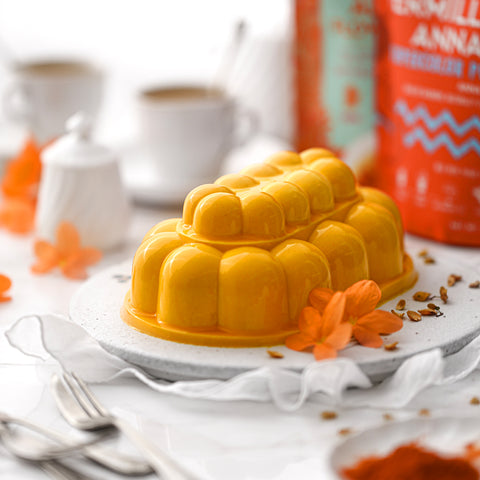 Directions
1. Gelatin powder to water. Set aside for 15 mins.
2. Mix Suncore Foods® Red Beet Powder and water. Set aside.
3. Place cream, milk and sugar in a small saucepan; cook on medium low heat until mixture starts to simmer (make sure to whisk constantly).
4. Turn the heat off.
5. Add in bloomed gelatin and Suncore Foods® Yellow Goldenberry Powder mixture. Mix until gelatin is fully dissolved. Strain mixture thru a fine mash shift.
6. Pour mixture to mould. Let it set overnight. Enjoy!
---