Ombre Blue Butterfly Pea Bread
Another gorgeous ombre bread, but next up to bat is Suncore Foods® Blue Butterfly Pea Powder! Just take a gander at all the wondrous shades of blue that you can make! Not your average everyday, store-bought bread of wonders that makes you wonder why it's so wonderful in the first place..This Ombre Blue Butterfly Pea Bread is structurally substantial, yet soft and fluffy at the same time. And with that extra touch of sweetness from the Butterfly Pea, we want to use this bread for anything! Sandwiches, toasted with butter, dipping into soups or sauces, or hanging it on the wall like a piece of art of the deep, blue sea.. With only a few simple delicious , this recipe is so easy, we may never have a loaf of flimsy, store-bought bread in the pantry again! So grab some yeast plus Suncore Foods® Blue Butterfly Pea Powder and get baking!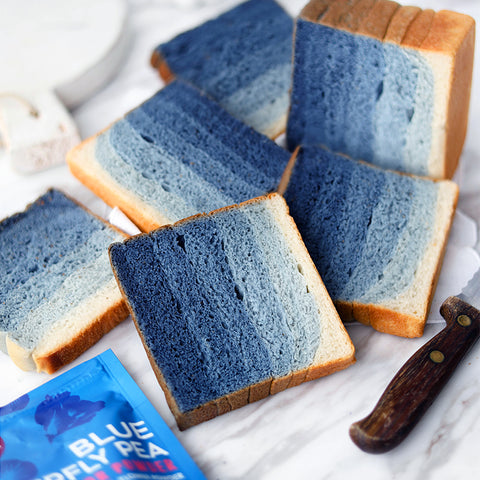 Directions
1. In a stand mixer, add all ingredients except for butter. Mixing on low-medium speed with the hook attachment until the dough comes together, about 5 mins. Add butter, a few pieces at a time. Scrape down the bowl. Continue to kneading on medium speed for 10 mins until the dough is smooth.
2. Divide dough into 8 or at least 5 to achieve the ombré effect, add dissolved Suncore Foods® Blue Butterfly Pea Powder and mix to desired colors. Continue kneading until it combined. Cover and let them proof for 1 hour until doubled in size.
3. Transfer the doughs to a clean surface. Form the dough into a balls and let it rest for 15 mins.
4. Roll out the dough to equal-sized rectangles and then lay each layer on top of each other. Place the dough in the prepared loaf pan. Cover with tea towel and allow to double for a second time, about 1 hour. Bake at 190c for 30-35 minutes.
---