No-Churn Rose Pink Pitaya Ice Cream
Happy National Ice Cream Sandwich Day, celebrate it with this delicious No-Churn Rose Pink Pitaya Ice Cream. Life is better with ice cream, get a spoon and dig in, and feel this creamy deliciousness melt in your mouth. You can add a rose aroma with Suncore Foods® Rose Petals and make it even more delightful with Suncore Foods® Pink Pitaya & Cerise Prickly Pear Powders to achieve this sweet, lovely pink hue. Day dreams & ice cream.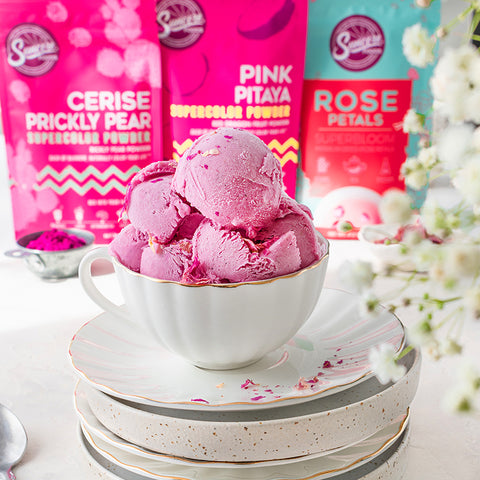 Directions
1. Steep Suncore Foods® Rose Petals in hot water for 15 minutes. Using the back of a spoon, gently press down on the petals in order for them to release more flavor. Strain rose water into a saucepan and discard rose petals.
2. Place coconut cream, condensed milk, vanilla extract, Suncore Foods® Pink Pitaya Powder, Suncore Foods® Cerise Prickly Pear Powder, cardamom, and salt in a blender and set aside (don't blend yet but keep it ready).
3. Dissolve corn starch and agar agar powder in 70 g of oat milk and transfer the mixture along with sugar plus the remaining 220 g of oat milk to a saucepan.
4. Bring to boil and reduce heat and simmer until the sugar is completely dissolved and the mixture starts to thicken. Ensure all ingredients are properly dissolved to avoid clusters in the ice cream.
5. Remove from heat and immediately transfer mixture to the prepared blender and blend all ingredients until smooth and very well combined.
6. Pour ice cream into a freezer-safe dish and gently tap the dish to remove air bubbles. Freeze overnight and allow the ice cream to thaw for 5 minutes before serving. Serve with additional rose petals as garnish. 
---