Hong Kong Fruit Crepe Pillows
Continuous small treats are the secret to happiness! Sit back, relax, and have a bite of these colorful, delicious Hong Kong Fruit Crepe Pillows. It's a popular dessert made out of light, soft egg flavored crepes stuffed with whipped cream and your favorite choice of fruit. Mango is a fan favorite! Add a touch of fun and color with Suncore Foods® Powders to achieve these delightful and joyous colors! Enjoy these delicious, filled with magic pillows.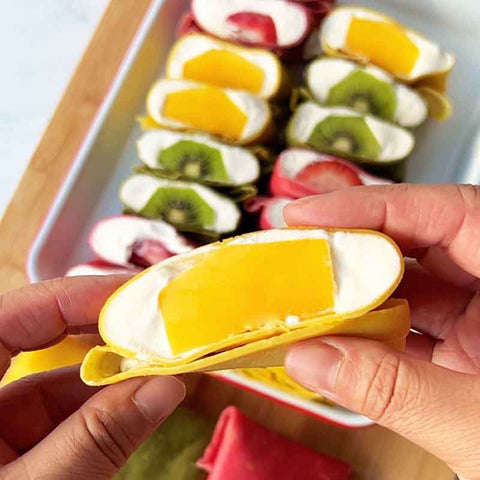 Directions
1. Rinse fruits. Peel off skins and slice off strawberry stems. Cut fruits in half and set them aside.
2. In a large mixing bowl, whisk together eggs, milk, and butter until well combined. Sift in flour, cornstarch, and sugar. Divide batter equally into three bowls. Sift in desired Suncore Foods® Powders and mix. Run batter through a sieve. Cover and chill in the fridge for 30-60 mins.

3. Add a small drizzle of oil in a pan and remove excess with a paper towel. Pour in approx 1/4 cup of batter over medium heat. Crepe is ready to flip once bubbles appear and edges release from the pan. Flip using a rubber spatula and cook for 20 more secs. Transfer crepe to a plate, then repeat. Don't be discouraged if your first crepe doesn't come out well, it rarely does.

4. In a clean large mixing bowl, combine heavy cream and sugar. Using a handheld mixer, whisk until soft peaks and can almost hold its shape. Add vanilla and mix once more.

5. Dollop a large spoonful of filling onto the middle of a crepe. Place fruit on top of the cream facing cut-side up. Fold crepe inwards on all sides similar to a pillow and transfer to serving plate fold side down. Slice in half or enjoy it as is!  
---