No Bake Lemon Curd Hemp Tart
We fell in love with this stunning, creamy, refreshing and oh so delicious tart! We love this so much and we know you will too!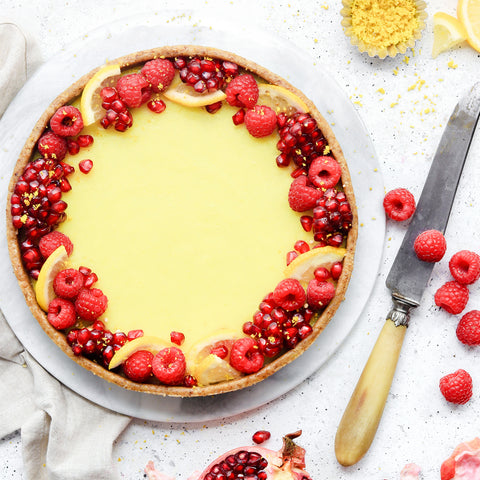 Ingredients
Lemon Curd:
1 cup fresh lemon juice
¾ cup maple syrup
¼ cup cornstarch
¼ tsp turmeric
¾ cup coconut cream
1 tbsp coconut oil
Pinch of salt
2 tsp agar-agar powder
Crust:
1 ¼ cups gluten-free rolled oats
½ cup almonds
2 tbsp Suncore Foods® Hemp Seeds
2 tbsp coconut oil
12 dates, pitted
Directions
1. Grease an 8-inch tart tin. Set aside. In a food processor combine oats, Suncore Foods® Hemp Seeds, almonds, and process until coarsely ground. Add dates, coconut oil, and maple syrup, pulse until mixture looks like wet sand. Firmly press the mixture into the bottom and sides of the prepared tart tin. Place in the freezer to set while you work with your filling.

2. In a saucepan, combine the lemon juice, maple syrup, cornstarch, oil, and salt. Cook on a medium-high heat, with constant stirring, until thickened.

3. Add coconut cream, agar-agar, turmeric, and mix until completely dissolved. Pour lemon mixture into the tart and place in the fridge at least 4 hrs to set.
4. Remove tart from the fridge and garnish with raspberry and pomegranate.
---