Monster Cakes
'Tis the spooky season… If you hear a bump in the night, don't worry. We're just brewing up some exciting and festive recipes! We can't wait to share this thrilling series of Halloween inspired goodies! These friendly Monster Cakes are not so scary, but so adorable and delectable, we can eat them right up! (Before they eat us first!) They are perfect for any Halloween party or even a children's birthday party should the guest of honor be a fan of monsters and/or cake. These cakes come to life wondrously with an array of Suncore Foods® Powders to give each character their own personality! There may be a lot of elements to creating the perfect furry creature, but it is definitely worth seeing your masterpiece come to life!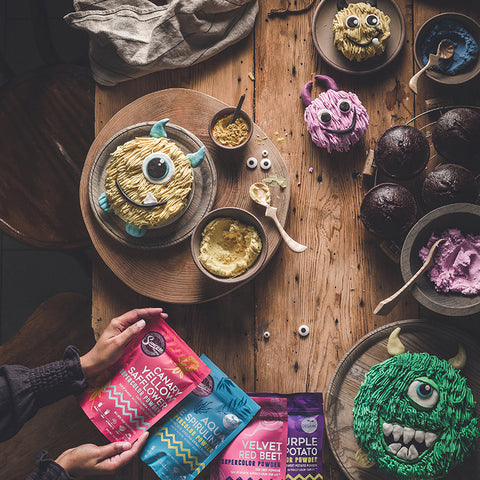 Directions
1. Preheat oven to 350f.
2. Line 3 6" baking pans with parchment paper.
3. Take all the ingredients in a large mixing bowl and beat all the ingredients until it's very well mixed using an electric mixer. Make sure to scrape the bottom while beating.
4. Divide the batter into the prepared pans and bake for 20-25 mins till done.
5. For the buttercream, beat the butter for 2 mins. Then add the other ingredients listed under buttercream and beat for 1 to 2 mins until fluffy. Then add the color of your choice listed in the buttercream ingredients and beat well till the color is well incorporated. Frost as desired.
6. I've used piping tip 234 to pipe the monster hair.
7. For the fondant decorations, you can mix the Sucore Foods® Powder color of your choice( I've listed what I've used under the fondant decorations- ingredients) with the white fondant and make your monster decorations. To make the black fondant, I've added black cocoa powder the white fondant and made the eyeballs and the mouth of the monster.
8. You can omit the fondant decorations and use some candy eyeballs instead and decorate the cakes.
---