Mirror Glazed Cake
On the beach or under the sea, mermaids we will always be. This whimsical, beautiful Mirror Glazed cake will bring magic to your table. Don't worry, no mermaid was harmed for this cake, we use Suncore Foods® Cerise Prickly Pear, Cosmos Red Cabbage & Pink Pitaya Powders to create this mesmerizing marble glazed. It's a ready-to-eat slice of a fairy tale, full of sweetness, deliciousness on the inside, and magical beauty on the outside. Leave little sparkles wherever you go, and shine bright! Add sparkle and shine on!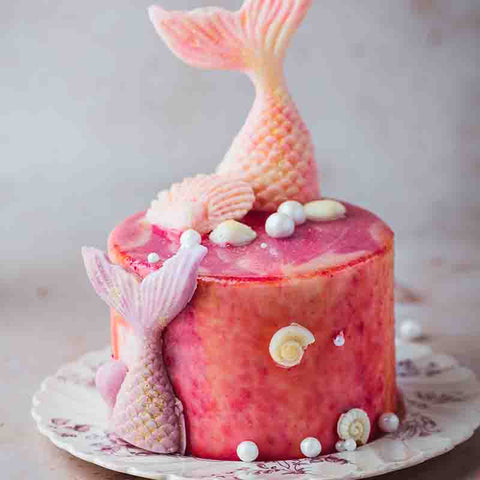 Directions
1. In a small bowl, add 50g cream and gelatin and heat in the microwave for 30 seconds. Whisk until the gelatin completely melts.
2. In a large bowl, add the remaining cream and sugar. Use an electric whisk to whip until soft peaks form.
3. To assemble, spoon the mousse into mousse mold. Smooth the top with a spatula. Place it in the refrigerator and chill until set, about 3 hours.
4. Add the sugar, sweetened condensed milk, gelatin powder and water to a saucepan. Turn on low heat, stirring occasionally, cook until simmer.
5. Pour the hot liquid on top of the chocolate chips and leave to sit for 5 minutes to melt.
6. Use a whisk to stir the chocolate glaze until the chocolate has completely melted. Divide it into 3 bowls.
7. Add the Suncore Foods® Powders to each bowl, stir to mix well. Let it cool for 5 minutes.
8. Take the mousse cake out and place it on a cooling rack.
9. Pour the mirror glaze over the mouse cake. Chill for 2 hours.


---