Mini Elderberry Breakfast Pizzas
You won't need a fork and knife for these! The best thing about a Mini Elderberry Breakfast Pizzas is everyone gets to have their own so you don't have to share! Add some fun to your mornings with these fueled fun treats!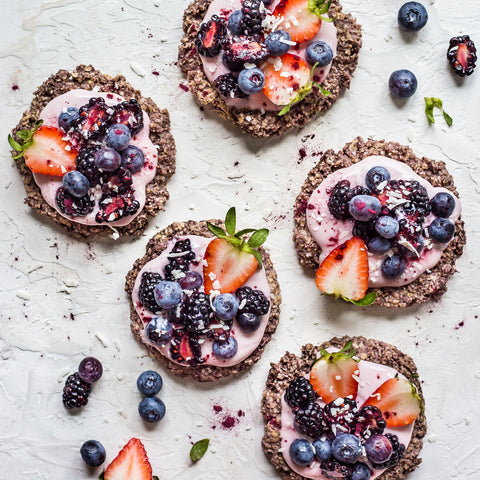 Directions
1. Preheat your oven to 350 degrees.
2. In a large bowl, combine all of the crust ingredients and mix well.
3. Form your mini pizzas into approximately 6-inch circles, you should get 5 of them.
4. Line a baking sheet with parchment paper and bake your crusts for about 12-15 minutes, just until the bottoms start to turn slightly golden.
5. While those are baking, whisk your yogurt and Suncore Foods® Garnet Elderberry Powder & Suncore Foods® Indigo Blueberry Powder together, wash and cut your fruit.
6. Remove from the oven and allow the crusts to slightly cool.
7. Spoon some yogurt on each mini pizza and top with fruit, shredded coconut and sprinkle with more Suncore Foods® Garnet Elderberry Powder.
8. Store any leftovers in the fridge.
---