Mini Blueberry Macarons
Our heart melted for these teeny tiny Mini Blueberry Macarons!!!! These little cuties are small but mighty. Just one bite, you'll be in love with crips air-light shell & sweet white chocolate with a hint of coconut ganache! Mmmmmmmm, such a fun treat! Pair it perfectly with our NEW Suncore Foods® Blueberry Puffs for some extra delicious crunchy fun! We color the day with this dreamy purple, made with Suncore Foods® Indigo Blueberry Powder. Satisfy your sweet tooth with this wonderful recipe at SuncoreFoods.com. Taste the fun, and shop our Blueberry Puffs!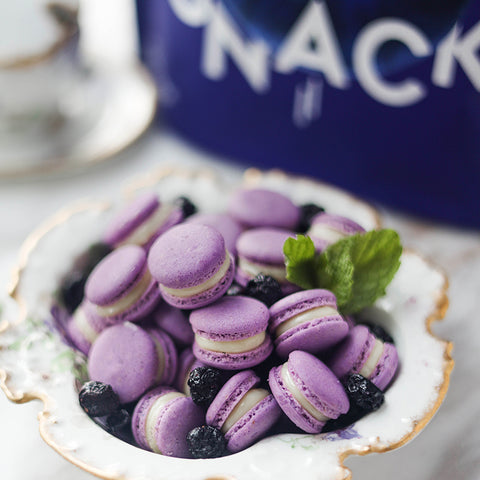 Directions
1. Prepare the Ganache — Heat the whipping cream in a saucepan. Pour the hot cream over the chocolate, mix until smooth. Place plastic wrap over it so it is touching the surface of the ganache or place it directly into a disposable piping bag. Place ganache in the fridge until needed.

2. Prepare the the Aquafaba — Strain the liquid from the canned chickpeas and weigh to 150g. In a saucepan cook chickpea water on a very low heat and reduce to 60g, stirring occasionally. When it reaches 60g, transfer to a bowl, cover in plastic wrap and refrigerate overnight.

3. Make the Macaron — Combine the powdered sugar, almond meal, Suncore Foods® Indigo Blueberry Powder and place in a food processor. Blend to achieve a finer consistency then pass through a sieve. Set aside. Whisk 50g aquafaba with the cream of tartar and one third of the sugar until a medium peak. Gradually add in the remaining sugar and continue whisking for 3 mins. Add purple colour powder and whisk for 1 min. Fold Suncore Foods® Blueberry Puffs, almond & powdered sugar mixture through the meringue by hand. Add the colour powder if using and whisk until the mixture is smooth and shiny. Pipe macarons on a baking sheet, let sit at room temperature for 45 minutes before baking. Bake at 130°C for approximately 12-13 mins. Allow macarons to cool completely.
4. Assemble, pipe chocolate ganache into each macaron and sandwich together.

5. Topped it off with Suncore Foods® Blueberry Puffs.
---