Mango Passionfruit No-bake Cheesecake with Matcha Cream
Have a slice of cake because it's somebody's birthday somewhere! Live life in colors with this Mango Passionfruit No-baked Cheesecake with Matcha Cream. Color your day happiness with Suncore Food® Cerise Prickly Pear, Marigold Passion Fruit Powder & Seeds, and add a layer of heavenly matcha cream to balance out the sweetness with Suncore Foods® Midori Jade Matcha Powder. Last but not least, top it off with some crunchy delicious Suncore Foods® Mango Chips! Eat cake and be happy!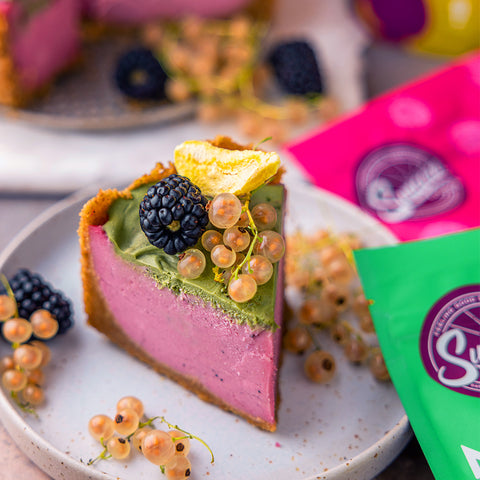 Directions
1. Crust — Combine crust ingredients and transfer mixture to the cheesecake pan. Firmly and evenly press the mixture down to the bottom of the cheesecake pan and using your hands, a press a thinner layer along the inner walls of the pan. Refrigerate while preparing the filling.
2. Filling — Boil cashews for 10 minutes, drain the water and transfer cashews to a blender along with all other ingredients except, oat milk and agar agar powder. Don't blend yet. In a saucepan, dissolve agar agar powder into oat milk. Bring the mixture to boil while stirring occasionally. Reduce the temperature and simmer for 1 minute, while stirring occasionally. The mixture will start to thicken. Transfer the mixture to the blender and blend until smooth and all ingredients are very well combined. Pour the mixture over the prepared crust and set aside.
3. Matcha Cream — Combine matcha cream ingredients and spoon or pipe the cream over the cheesecake filling.
4. Freeze cheesecake for 2 hours. Transfer cheesecake to the refrigerator and chill overnight. Serve with fresh fruit.
---