Matcha Mousse Cake
Luxurious heavenly Matcha Mousse Cake with a delicate cloud-like mascarpone mousse will delight you with its mind-blowing earthy sweet texture, flavor & aroma, perfect for everyday cake! The soul of this soft & fluffy cake was made from Suncore Foods® Midori Jade Matcha Powder. Surprisingly easy to prepare but you don't have to be limited to this incredible green powder. You can customize your cake any way you want by using the different colors our other Suncore Foods® Powders have to offer, we can't wait to see what you create!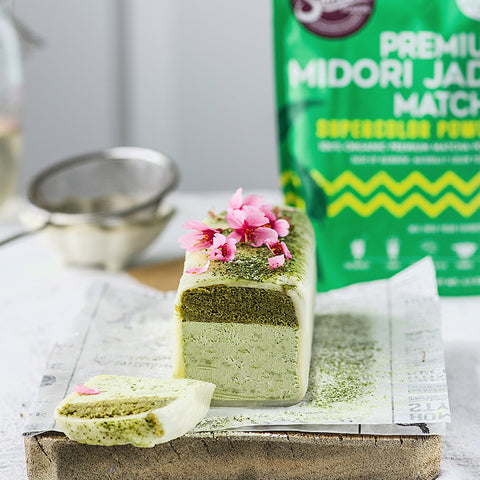 Directions
1. Preheat oven to 350°F. In a small bowl, add milk and butter. Set aside.
2. In a large bowl, add eggs, vanilla, honey and coconut sugar, and whisk to mix well. Place the bowl over a pot of hot water; keep stirring until the temperature increases to 105F.
3. Remove the bowl from the hot water and place the milk bowl over the hot water.
4. In the meanwhile, use an electric whisk to whisk the eggs until pale in color and fall in ribbons when the whisk is lifted. Sift the flour and Suncore Foods® Midori Jade Matcha Powder into the bowl, and gently fold until well combined. Remove the milk bowl from the hot water; add a little batter to the milk bowl and mix well. And then take the milk mixture and pour back to the batter, using a spatula, gently fold until well combined.
5. Transfer the batter to a 6-in cake mold, bake for 35 minutes. Carefully remove cake from the pan and cool it on a wire rack.
6. In a small bowl, add 50g cream and gelatin and heat in the microwave for 30 seconds. Whisk until the gelatin completely melts.
7. In a large bow, add the remaining cream, Suncore Foods® Midori Jade Matcha Powder, and sugar. Use an electric whisk to whip until soft peaks form.
8. Assemble, slice the cake the same size as the mousse mold. Place the cake at the bottom of a mold and spoon the mousse into the mold over the cake. Smooth the top with a spatula. Place the cake in the refrigerator and chill until set, about 2 hours.
9. Then make the mochi wrap. Mix all the ingredients in a bowl except the butter. Whisk to mix well. Cover with a plastic wrap and steam for 30 minutes on high heat.
10. Take the bowl out and add butter to the dough. Let it cool for 5 minutes. Wearing kitchen gloves (as the dough will be very sticky) and knead the dough becomes smooth and elastic.
11. Roll out the mochi dough to a square. Place the mousse cake on top. Gently take the edges to wrap the cake.
---