Matcha Christmas Tree Cookies
Get ready to stack your holiday cookies high! These Matcha Christmas Tree Cookies are definitely on your to-do list for Christmas baking! Made using Suncore Foods® Midori Jade Matcha Powder to make that signature Christmas green, a decadent masterpiece treat that will be the centerpiece for great family project in this holiday!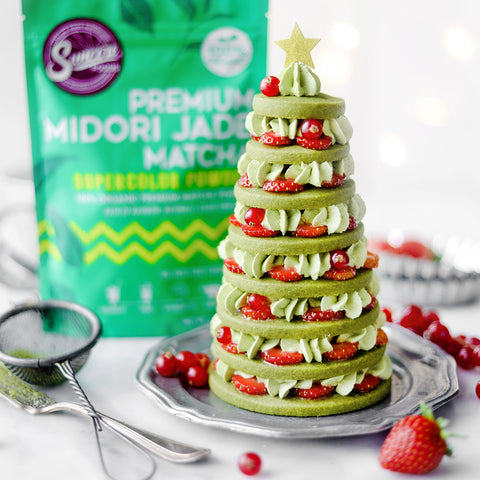 Directions
1. In a food processor, add cookie ingredients pulse until a dough ball forms. Roll dough into a large rectangle onto a piece of parchment paper, about 1 centimeter thickness. Refrigerate for 15 minutes.
2. Preheat oven to 170c. Prepare a baking sheet with parchment paper. Cut out chilled dough using 8 different sizes cookie cutters. (Place the dough in the refrigerator If dough gets too soft) Place the cookies on baking sheet.
3. Bake for 10-12 minutes. Allow to cool for 10 minutes on the baking sheet. Transfer the cookies to a wire rack to cool completely.
4. Make the cream, place butter in the stand mixer bowl with the paddle attachment. Whip on medium to high speed for about 1 min. Stop mixer and add the sifted powdered sugar, salt, vanilla bean extract and matcha powder. Mix on low speed until incorporated, scrape the bottom and sides of the bowl, add the coconut whipping cream and then mix on high speed until smooth. (Add more powdered sugar if the cream is too thin or another tablespoon of coconut whipping cream if cream is too thick).
5. Place the largest cookie on a serving platter, pip the cream and garnish with strawberry slices. Continue stacking and building the cookie tree.
---