Gluten-Free Quinoa Hemp Granola Tart
What better way is there to celebrate this joyful holiday season than with this Gluten-Free Quinoa Hemp Granola Tart to feed a crowd or to give as gifts?! Used Suncore Foods®️ Snow Quinoa Flakes & Suncore Foods® Hemp Seeds to create a delicious blend for the crust. It's full of crisp, crunch, and nutrition. Perfect with yogurt or chia pudding and fresh fruits. This will be your new go-to recipe for the holidays!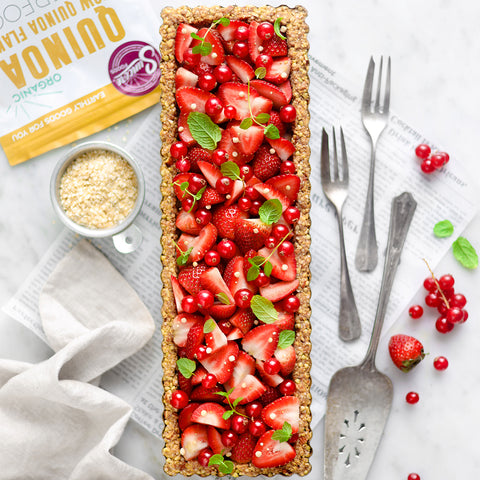 Directions
1. Preheat oven to 180 celsius. Grease a rectangle tart tin (13.5" inch). Set aside.
2. In a large mixing bowl, Suncore Foods® Snow Quinoa Seeds, chopped almonds, buckwheat groats, Suncore Foods® Hemp Seeds until evenly combined. Add in the maple syrup, coconut oil, vanilla and toss until the dry ingredients are evenly coated.
3. Transfer granola mixture into prepared tart pan, pressing the granola firmly into bottom and up the sides of the tart pan. Then place the pan on a baking tray.
4. Bake for 20 minutes, until the granola is toasted on top. Transfer tart pan to a wire rack, and cool until they reach room temperature. Tart will dry out and crisp up while it cools. .
Gently remove the granola tart from the tart tin, fill with your desired fillings and serve immediately. .
---