Matcha Chocolate Sesame Ice Cream Sandwiches
Have you ever had Matcha Chocolate Sesame Ice Cream Sandwiches? Because if not you need to try them asap! One bite of these delicious sandwiches and you'll be glad you made them. These perfect size for a quick treat or sit down and indulge in more than one! They're the gift that keeps on giving. Be sure to make them so you can experience how wonderful these little ice cream sandwiches are!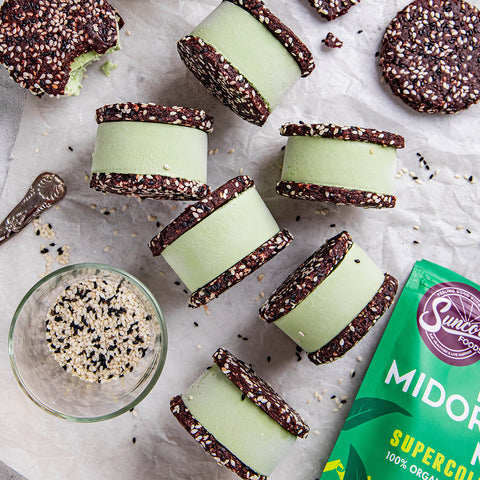 Ingredients
Make 8 Ice Cream Sandwiches:
100g cashews, soaked overnight
250g coconut cream, canned
60g maple syrup
2 tsp Suncore Foods® Midori Jade Matcha Powder
2 tbsp sugar of choice
80 ml almond milk
16 homemade chocolate tahini cookies to assemble
Directions
1. Drain and rinse the cashews.
2. Place all the ice cream ingredients into a high speed blender and blend until complexly smooth.
3. Churn the ice cream into an ice cream maker for 25 minutes.
4. Alternatively, place into a loaf pan and refrigerate for 1 h mixing with a spoon every 30 minutes.
5. Fill the molds and refrigerate for at least 6 hours. If You don't have molds, fill a 3 cm deep tray and freeze for at least 5 hours; use a round cookie cutter to get the ice cream shaped.
6. Place each ice cream disc between 2 cookies and gently press to assembly.
7. Eat straight away or freeze for up to 10 days.
---