Mango Lemon Chocolate Cacao Quinoa Bars
The ultimate sun shining way to start the new week! Soft, delicious, and luxurious Mango Lemon Chocolate Cacao Quinoa Bars with a bright zippy flavor and a simply good quinoa base. This recipe is vegan, gluten-free, no sugar added, and very easy to put together. Pin it, because they will be a favorite in your family!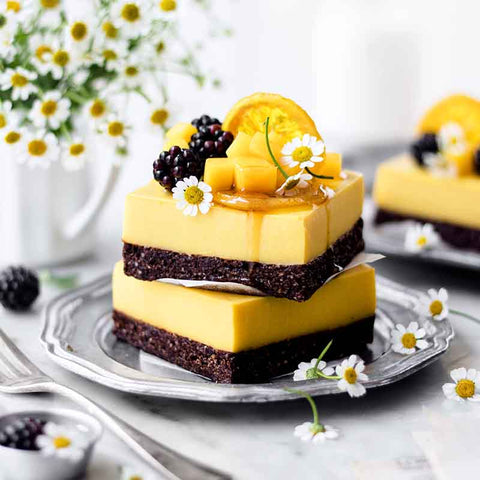 Directions
1. Prepare an 8x8 baking pan by lining it with a sheet of parchment paper, leaving a few inches of overhang on the sides to allow for easy removal. Set aside.
2. In a food processor, process base ingredients until almonds grounded and well combined. Transfer mixture into prepared pan, pressing firmly into the bottom Place pan to the fridge to set while preparing the mango lemon layer.
3. Dissolve the cornstarch into the water and set aside.
4. Place coconut cream and lemon zest in a saucepan and bring to a boil. Then add in agar and whisk until agar is completely dissolved. Stirring constantly. Whisk in mango purée, lemon juice, dissolved cornstarch, vanilla, Let it simmer for 2 minutes.
5. At this point, taste and add more lemon juice as needed.
6. Strain through a fine meshed sieve into a bowl. Pour and spread the Mango lemon mixture over the base.
7. Let it cool at room temperature for about 10 minutes before transferring the bars to the refrigerator to chill and set for at least 4 hours or overnight.
---