Love Is Love Rainbow Cheesecake
Beyond being beautiful, this Love Is Love Rainbow Cheesecake is skily, smooth, and so much fun to make as it is to eat in all the colors of the rainbow. All the extraordinary colors are made using Suncore Foods® Powders. This is definitely one for the favorites and sure to please everyone's eyes and taste buds.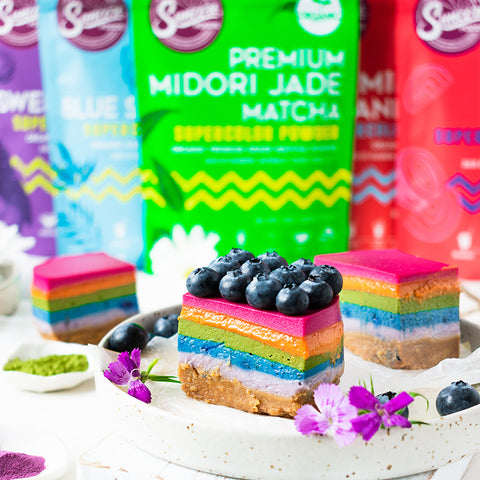 Directions
1. Prep – Soak cashews in water and set aside for 30 minutes.
2. Crust – In a large bowl combine graham cracker crumbs and butter. Firmly press the crust mixture to the bottom of a cheesecake pan. Keep refrigerated while preparing the cheesecake.
3. Cheesecake – Drain cashew water and place cashews along with all remaining ingredients in a blender. Blend until smooth and well combined. Equally divide batter into 5 bowls and mix in 1 color per bowl.
4. Evenly pour 1 Suncore Foods® Powder mixture onto the crust. Refrigerate for 30 minutes until the layer slightly solidifies and pour onto it another supercolor mixture and follow the same process until all color mixtures are utilized.
5. Once all the Suncore Foods® Powders have been layered, freeze cheesecake for 2 hours and then transfer the cheesecake to the refrigerator overnight.
---