Lots-o'-Huggin' Burgers
Now THAT is a tasty burger that completely hamburgled our hearts. These are the only bun for us, perfect for little picky eaters and family parties. Aren't they just the cutest? They are so adorable that you may never want to part or eat them. Jumbo, extra-soft, pink Lotso bun burgers are made with Suncore Foods® Red Beet Powder and Ruby Red Radish Powder, slices of cheese, seaweed, layered with your favorite fillings and paired with crispy sweet potato fries. Make your own burgerlicious burst of colors with our amazing selections of Suncore Foods® Powders!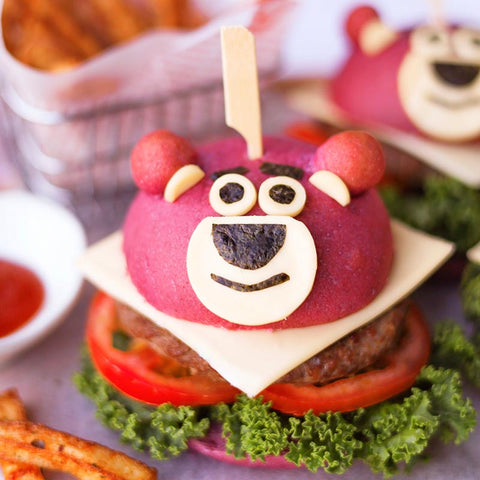 Directions
1. Yudane — In a saucepan, add flour and water. Simmer until thick. Transfer it to a bowl, cover with cling wrap (directly touching the yudane). Refrigerate for at least 4 hours.

2. Buns — In a large bowl, add bread flour, Suncore Foods® Red Beet Powder, Suncore Foods® Ruby Red Radish Powder, sugar, salt, milk powder, instant dry yeast, Yudane, and milk. Using a stand mixer, mix until the dough is smooth and forms a ball. Add butter, mix again until very smooth (use the windowpane test: stretch until it becomes a thin film without breaking). Knead the dough and turn it into a ball. Transfer it back to the bowl, cover with cling wrap, set aside in a warm place and let rise for around 45 mins or until it doubles in size. Take 28g of the dough, set it aside. Divide the reminding dough into 8 even pieces, roll them into balls, cover with cling wrap and let them rest for 15 mins. Divide the 28g of dough into 14 pieces, roll into balls. Place the ears (a bit closer to each other). Set aside in a warm place to proof for around 40 mins. Preheat the oven to 180 °C/ 356 °F. Bake for around 8mins, cover the buns with tin foil (to prevent browning), and bake for another 7mins. Let them cool down. Cut the buns in half. Use cheese and seaweed for the facial features.
---