Pink Pitaya Berry Cheesecake Bars
An absolute must try Pink Pitaya Berry Cheesecake Bars!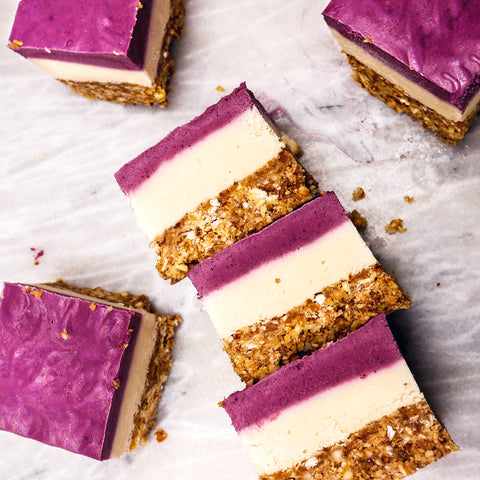 Ingredients
Base:
150g whole almonds
100g dried mulberries
100g coconut chips
30g buckwheat groats
50g maple syrup
1 tsp vanilla extract
¼ tsp salt
Filling:
125g blanched almonds boiled
75g tofu extra firm
150g maple syrup
20g lemon juice
1 can full fat coconut milk (the cream only)
60g coconut butter
25g unrefined cane sugar (sucanat)
1 tbsp vanilla extract
¼ tsp salt
¼ tsp xanthan gum
Pink Pitaya Layer:
Save ¼ of the filling and blend with:
20g blueberries
2 tsp Suncore Foods® Pink Pitaya Powder
Directions
1. Blend base ingredients together until fine and press into pan.
2. Blend filling ingredients and add xanthan gum last.
3. Pour ¾ of the mixture on top of the crust and chill.
4. Blend pink pitaya layer ingredients and pour over previous layer and chill until set in freezer or fridge and enjoy!
---